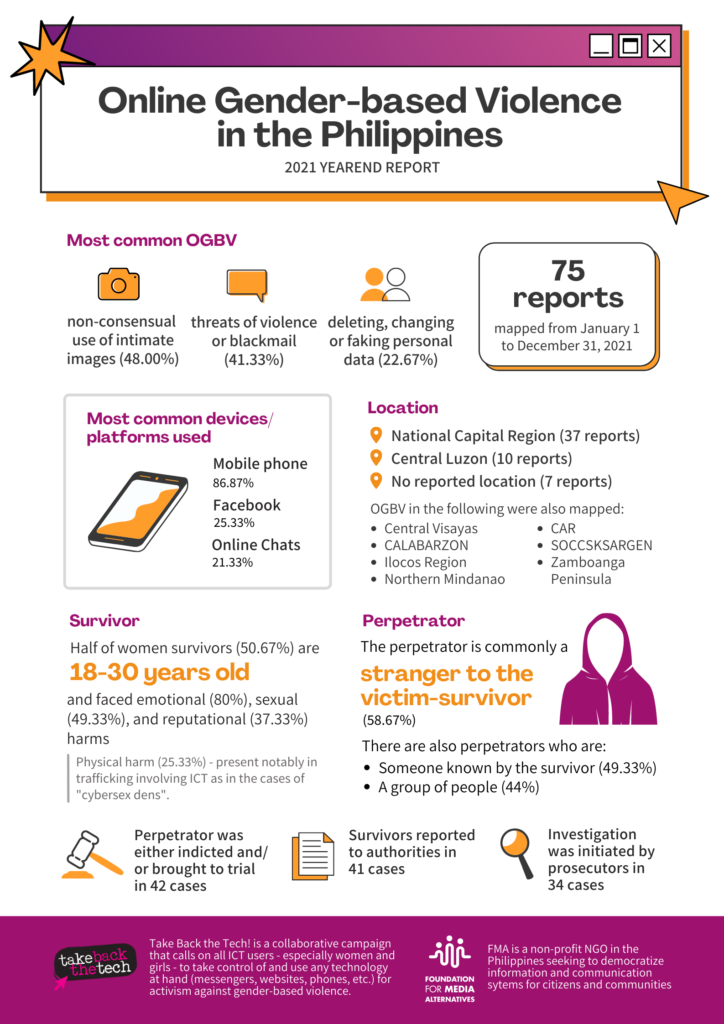 The Foundation for Media Alternatives (FMA) has been mapping media reports of online gender-based violence (OGBV) in the Philippines since 2012 through the Take Back the Tech! mapping platform. Over the years, these cases have shown trends and emerging manifestations of violence against women and girls that are replicated and exacerbated with the use of information and communications technologies (ICTs). At the height of the pandemic in 2020, OGBV incidence in the Philippines rose to 165%, which follows the consistent findings of increased gender-based violence in times of crisis.

In 2021, FMA mapped 75 reports of OGBV in the Philippines. These include media-sourced reports of OGBV and messages received by the Women's Rights Online – Philippines Facebook page. The most prevalent cases are non-consensual distribution of intimate images (48.00%), threats of violence or blackmail (41.33%), and deleting, changing or faking personal data (22.67%).
Mobile phone (86.67%) is the most commonly used device followed by social media platform Facebook (25.33%). Online messaging platforms (21.33%) and videos (21.33%) were also among the ICT used. OGBV was also mapped in other social networking sites (13.33%) such as Instagram, TikTok, and dating applications. Other devices and platforms (13.33%) were also used such as Zoom and photo editing applications.
The National Capital Region, with 37 reports, has the most OGBV incidence. This is followed by Central Luzon with 10 reports. There are seven cases with no reported location. OGBV reports were also mapped from Central Visayas (7 reports), CALABARZON (4 reports), Ilocos Region (3 reports), and Northern Mindanao (2 reports). Three reports were from other regions namely Cordillera Administrative Region (CAR), SOCCSKSARGEN, and Zamboanga Peninsula.
Half of women survivors of OGBV are within the ages of 18 to 30 years (50.67%). This is followed by girls under 18 (30.67%) and women aged 31 to 45 (10.67%). Survivors face emotional harm (80.00%), sexual harm (49.33%), and harm to reputation (37.33%). Physical harm (25.33%) is also present notably in trafficking involving ICT as in the cases of 'cybersex dens'.
The perpetrator is commonly a stranger to the victim-survivor (58.67%). However, in almost half of the cases, they are someone familiar to or known by the victim-survivor (49.33%). A group of people are also involved as indicated in 44% of the reports.
Out of the 75 cases, 42 indicated that the perpetrator was either indicted and/or brought to trial. Forty one (41) were reported to law enforcement authorities by the survivors. Investigation was initiated by prosecutors and law enforcement in 34 reports. Survivors also sought the help of State offices specialized in violence against women (VAW) (12 reports). Others confronted the aggressor (19 reports) and reported them to the platform (6 reports).
Love scams and violence via dating apps
Sextortion remains as one of the most prevalent cases of OGBV in 2021. These are often done by women's ex-partners either to force them to get back to the relationship or to promise the safety of their nudity photos which are, in some cases, even taken without the consent of the woman in the relationship. Intimacy is commonly taken advantage of in these cases. Perpetrators lure women into affection only to later take advantage of their trust and confidence to threaten them, tarnish their reputation, or steal their money.
This was the case for Jenelyn (not her real name), a businesswoman, who met a man online who turned out to have faked his persona on social media. He used the fake profile to entice her into having a relationship with him. He later asked her for intimate photos which he used to blackmail her into sending him PHP 400,000.00. Through police intervention, the perpetrator was found out to be two foreign nationals backed by a Filipino cohort. In one report alone, six women came forward about having money stolen from them by one man. He pretended to be a different person to each of the women he messaged online and built a relationship with. He would later ask for money and 'disappear' once he received them.
Dating applications appear to be a playground for perpetrators of gender-based violence. The same modus was found in a Quezon City office. Authorities were first informed that a certain business process outsourcing (BPO) company there was involved in piracy. Upon raiding the office, they found that the company was facilitating scams by using various online messaging and dating apps. The perpetrators would use these apps to offer nude photos and massage services. Once they get a client's ATM and credit card credentials, they proceed to conduct theft.
Engaging who?
While the number of 2021 reports dropped by 43.84% from 2020, the kind of cases still largely remain the same and appear to manifest on even more platforms. Online harassment, for example, is reportedly becoming rampant in online gaming but media are yet to surface more of these incidents. As mentioned above, dating applications are likewise becoming channels of gender-based violence. Such cases reveal that abuse knows no limitations especially with the facilitative nature of the internet. As ICT develops and as more people make use of the diverse services and indulgences it offers, it remains a site of struggle especially for women who have long been resisting the brutal impacts of gender inequality offline.
Moving forward, a lot still appears to be a must to address technology-facilitated threats and harms that push women out of meaningful online engagement. Platform designers and providers, users, and the government alike must toil to ensure that even online spaces must be safe spaces, too.