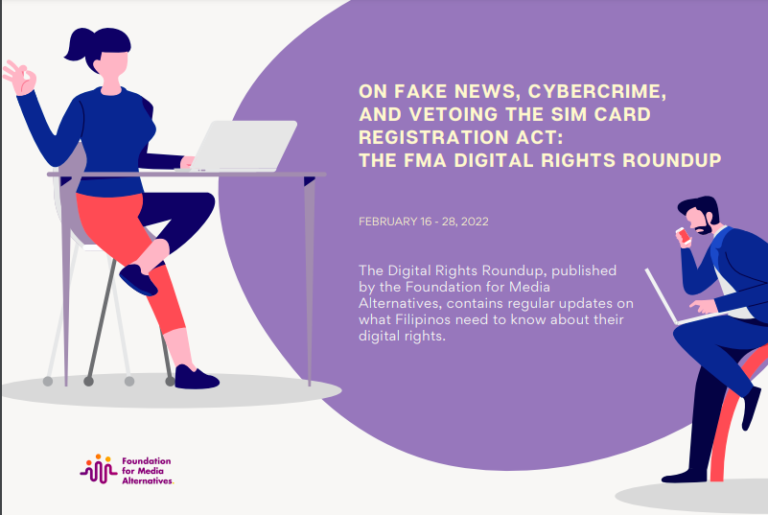 February 16-28, 2022
The Digital Rights Roundup, published by the Foundation for Media Alternatives, contains regular updates on what Filipinos need to know about their digital rights.
Philippines's Mandatory SIM Card Registration Threatens Privacy and Free Speech
The Subscriber Identity Module (SIM) Card Registration Act, ratified recently by the Philippine House of Representatives and the Senate, is now awaiting the signature of President Rodrigo Duterte amid criticisms that it could be used to undermine the privacy and civil liberties of citizens. If passed into law, the Act will require the registration of SIM cards prior to their use and activation. The measure will also mandate social media companies to register the real names and phone numbers of individuals creating accounts on their platforms. Read more here.
Pinoy Gamers Unite Against SIM Card and Social Media Registration Act
Anonymity and pseudonymity is part and parcel of being a user on the internet. Since the dawn of online forums and chat rooms, we were all taught to give ourselves personal handles and pseudonyms when surfing the web. A new bill being tabled by the Philippines government may just threaten this right to anonymity if it's passed in less than a month's time. Read more here.
Telcos throw support behind SIM card registration amid rights and privacy concerns
Three telco companies have expressed their support for the SIM Card Registration Act, a measure which, if passed into law, will require all buyers of SIM cards to submit their personal details to these firms, who will store the information in a SIM card database. Read more here.
Philippines accuses European Parliament of election meddling and fake news in human rights row
The Philippine government has condemned a European Parliament resolution threatening the withdrawal of trade privileges unless Manila releases a jailed senator and investigates the unresolved killings of thousands of drug suspects, unionists, lawyers and activists. Read more here.
Disinformation, propaganda playing a part in Marcos' popularity among low-income groups – analyst
Disinformation and propaganda are playing a part in the popularity of presidential aspirant Ferdinand "Bongbong" Marcos Jr. among low-income groups, making him the frontrunner to replace President Rodrigo Duterte in the May 2022 elections. Cleve Arguelles, lecturer at the De La Salle University's political science department, said lower-income earners were most "vulnerable" to fake news due to limited Internet access. Read more here.
Fake news persists in 'patient zero' PH: Lies live in too many ways
Fake news has two dimensions—the "genre" and the "label"—which are both prevalent in the Philippines, the crisis' "patient zero." University of Vienna researchers said fake news leads to two dimensions of political communication—the deliberate creation of disinformation and the weaponization of the term to "delegitimize" the media. Read more here.
In picking presidential bet, Filipinos turn to national TV, social media
Before coming out to vote on May 9, Filipinos will be checking out at least two major sources of information to base their choice for president: national TV stations and the internet, according to a January 2022 survey by Pulse Asia. Read more here.
News organizations no longer dominate PH online space – Rappler study
The study also finds that government and politicians enjoy blind trust from some Filipino audiences, even as the involvement of Philippine state actors in disinformation campaigns has been exposed. The study, conducted with support from Internews and which employed Internews' Information Ecosystem Assessment methodology, sought to explore the dynamics of the Philippine media environment and how information and disinformation flow through it. Read more here.
Hacker group mounts DDoS attacks vs PH news outlets, hailed by gov't
The Pinoy Vendetta hacking group claimed credit for a series of DDoS attacks against critical media, political opposition figures, and the Communist Party of the Philippines (CPP). The group started publicly posting about the DDoS attacks in June 2021. Before that, most of the content of their Facebook page were general cybersecurity news. The National Task Force to End Local Communist Armed Conflict (NTF-ELCAC) and its spokesperson Lorraine Badoy publicly endorsed the group in December, praising its attacks on the CPP. The NTF-ELCAC and Pinoy Vendetta have consistently denied any working arrangement between them. Read more here.
House probe sought vs cyberattacks on news sites
Bayan Muna called on the House of Representatives to hold an investigation against increasing illegal cyberattacks against news websites like Rappler, CNN Philippines, and Philstar, as elections draw near. Bayan Muna on February 22 announced it filed a resolution calling for the probe on February 17. Read more here.SWS survey: Majority of Filipinos believe 'fake news' is serious issueMajority of Filipinos believe that the problem of fake news in media is serious, the latest Social Weather Stations (SWS) survey showed. According to the survey conducted from December 12 to 16, 2021, 69 percent of the respondents consider the problem of the spread of fake news in media such as television, radio and newspaper as serious. Read more here.
SWS survey: Majority of Filipinos believe 'fake news' is serious issue
Majority of Filipinos believe that the problem of fake news in media is serious, the latest Social Weather Stations (SWS) survey showed. According to the survey conducted from December 12 to 16, 2021, 69 percent of the respondents consider the problem of the spread of fake news in media such as television, radio and newspaper as serious. Read more here.
Comelec, Rappler in election news fact-checking deal
Comelec has tapped a local news website to educate voters against fake news and information. Comelec on Thursday signed a deal with Rappler, Inc., which will offer a fact-checking portal that will counter disinformation ahead of the May 9 elections, according to a video of the signing streamed live on Facebook. Different news, civic and research groups will participate in the campaign by monitoring and verifying information on social media platforms. Read more here.
Increased reliance on government sources dangerous for Filipinos on Facebook
By prioritizing relevant information from the health department during the pandemic, Facebook consequently highlights as well other government voices that are spreading disinformation. Read more here.
Kiko files libel complaint against YouTube channel of Marcos propagandist
Sen. Francis "Kiko" Pangilinan on Monday, Feb. 14, filed a complaint against Maharlika, a pro-Marcos YouTube channel, for alleged libelous videos it posted that violate the Cybercrime Prevention Act of 2012. This follows the two separate cyber libel complaints Pangilinan filed July 2021 against YouTube channels "Latest Chika" and "Starlet" for similar false videos, which the popular online platform has since taken down. Read more here.
8 more online illegal lenders told to stop operations
The Securities and Exchange Commission (SEC) continued its crackdown against illegal lending after ordering eight online lending operators to stop conducting lending activities without the necessary license. In an order issued February 8, the agency directed CashWill, PesoBee, Peso T-Safe Online Cash, RushLoan, SkyMart, SpendCash, Tapa, and WithU, to immediately cease and desist from operating lending businesses until they have incorporated and secured from the SEC authorization to pursue such activities. Read more here.
Cybersecurity firm warns people of online dating scammers
A cybersecurity company reminded the public not to share all their personal details on dating apps and sites. With the popularity of Netflix's hit documentary "The Tinder Swindler," audience can have a glimpse of how online dating can be dangerous, as scammers can get really creative so people can fall prey to their elaborate schemes. Anna Larkina, security expert at Kaspersky, said in a statement that all the information online can be picked up by scammers. Read more here.
PH is 4th most targeted country by cybercriminals — Kaspersky
The Philippines is the fourth most attacked country in the world, with over 50 million web threat attempts last year, according to latest statistics from Kaspersky Security Network (KSN), the cybersecurity company's cloud-based threat intelligence service. From 2017 to 2021, the cyberthreats detected in the Philippines skyrocketed by 433 percent in KSN's malware-detection history. Read more here.
PLDT, Smart said to be blocking Change.org's URL shortener
Earlier this week, subscribers of PLDT and Smart found out that their ISP was blocking chng.it, the URL shortener of the petition site Change.org, without warning. While working for some, other users reported that the URL-shortened site couldn't be reached from PLDT and/or Smart, and that they either had to use a backup ISP or a VPN to be able to load the URL and proceed to the signature campaign site. Read more here.
Globe, UNICEF, IWF highlight need for cooperation to protect children vs online abuse and sexual exploitation in the Philippines
In a webinar marking Safer Internet Day on February 8, Philippine digital solutions platform Globe and international organizations United Nations Children's Fund (UNICEF) and the Internet Watch Foundation (IWF) vowed to continue efforts in fighting Online Sexual Abuse and Exploitation of Children (OSAEC) in the country. Read more here.
Alarmed at disappearance of 31 persons, senators call for suspension of e-sabong
The Senate announced on Thursday, Feb. 24, that it will issue a resolution urging Pres. Rodrigo Duterte to direct the Philippine Amusement and Gaming Corporation (Pagcor) to suspend the operation of e-sabong until the case of the 31 missing persons is resolved. Read more here.
US Trade agency tags PH as market piracy hotspot
The Philippines has been identified in the US Trade Representative's (USTR) 2021 Review of Notorious Markets for Counterfeiting and Piracy as one of physical market piracy hotspots alongside 34 others in 18 countries that comprise the notorious market list (NML). According to the report, Greenhills Shopping Center in San Juan, Metro Manila has many storefronts that sell counterfeit goods, including electronics, perfumes, watches, shoes, accessories, and fashion items. Read more here.
Lawmaker warns property developers vs exclusive ISP deals
Makati City Rep. Luis Campos Jr. warned condominium and subdivision developers on Sunday against making exclusive deals with a single internet service provider (ISP), saying they risk getting slapped with administrative fines of up to P100 million. Read more here.
Converge to lease fiber, earth station to SpaceX
A satellite broadband deal between fiber Internet billionaire Dennis Anthony H. Uy's Converge ICT Solutions and American tech billionaire Elon Musk's Space Exploration Technologies Corp. (SpaceX) is ready for liftoff. Read more here.
DOWNLOAD: On Fake News, Cybercrime, and Vetoing the SIM Card Registration Act: The Digital Rights Roundup (February 16-28, 2022)
All resources here are linked to the original websites. If any of the resources will be used otherwise, please do credit the source.