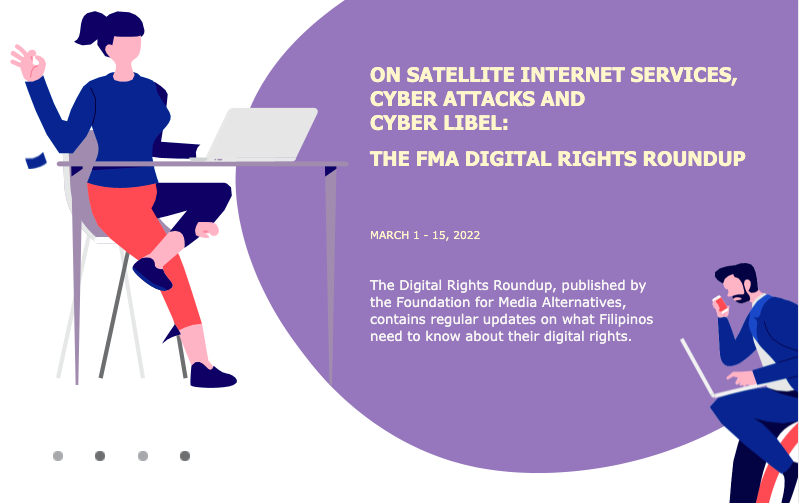 'EVEN RIZAL USED A PSEUDONYM': DUTERTE URGED TO VETO SIM CARD REGISTRATION OVER PRIVACY CONCERNS
Internet freedom and ICT rights advocacy group Democracy.Net.PH on Wednesday urged President Rodrigo Duterte through a written petition to veto the SIM Card Registration Act, saying it has flawed and unclear provisions that violate freedom and privacy. The veto petition against the SIM card registration act, delivered by hand to Malacañang, was signed by more than 61,000 individuals and groups. Read more here.
CONVERGE APP HIT BY DATA BREACH
Internet service provider Converge ICT Solutions Inc. said its GoFiber app has been compromised by a data breach, affecting a small portion of its customer base. In a statement, Converge data protection officer Laurice Tuason said the company's GoFiber app was hit by a data breach involving the personal information of its customers, where unauthorized third parties attempted to view certain account details of other subscribers. Read more here.
PH JOURNALISTS CONCERNED MOST ABOUT FAKE NEWS AMONG ASIA PACIFIC PEERS – REPORT
A survey by Telum Media, a firm that monitors the journalism and media industry, revealed that in the Asia Pacific region, media professionals and journalists in the Philippines are the most concerned about fake news.
Fifty-three percent of those surveyed in the country listed fake news as among the biggest challenges that they are expecting in 2022. The average for Asia Pacific is 31%. Read more here.
COMELEC-RAPPLER DEAL TO BOOST VOTER ENGAGEMENT, FIGHT DISINFORMATION DEFERRED
The Commission on Elections (Comelec) suspended the implementation of its agreement with news website Rappler, following the objections of the Office of the Solicitor General, as well as some candidates and partisan groups. In a memorandum, Comelec Commissioner Socorro Inting said the poll body is deferring the implementation of the Memorandum of Agreement (MOA) with Rappler "until the issues are settled." Read more here.
GOOGLE LAUNCHES ELECTION TRENDS PAGE FOR PH POLLS
Internet giant Google has launched a Google Trends Philippine Elections page, a tool that helps surface the top queries, topics, and most-searched presidential and vice-presidential candidates running in the elections. Read more here.
400,000 VIDEOS REMOVED AS YOUTUBE INTENSIFIES FACT-CHECKING AHEAD OF MAY POLLS
Video sharing platform YouTube has imposed restrictions on the viewing of a video of the People Power Revolution anthem "Handog ng Pilipino sa Mundo," barring users under 18 from watching it. When viewing the video uploaded by the song's composer, Jim Paredes, a prompt will appear saying that the "YouTube community" identified it as "inappropriate or offensive to some audiences." Read more here.
YOUTUBE RESTRICTS VIEWING OF PEOPLE POWER ANTHEM
Video sharing platform YouTube has imposed restrictions on the viewing of a video of the People Power Revolution anthem "Handog ng Pilipino sa Mundo," barring users under 18 from watching it. When viewing the video uploaded by the song's composer, Jim Paredes, a prompt will appear saying that the "YouTube community" identified it as "inappropriate or offensive to some audiences." Read more here.
META INSTALLS SAFETY TOOLS FOR WOMEN LEADERS, JOURNOS ACROSS SOCIAL MEDIA PLATFORMS
In response to the heightening antagonism online due to the upcoming national elections, social media parent company Meta, owner of Facebook, Instagram, Messenger, and Whatsapp, announced its updated safety features for public figures and journalists across its platforms. The company said it is giving emphasis on protecting women as studies show that women in politics are disproportionately targeted for abuse and misinformation attacks on social media. Read more here.
ILOCOS MOBILE USERS FEAR BREACH OF DATA PRIVACY WITH POLITICAL TEXT SPAM
Several Ilocos residents receiving political spam messages allegedly from 2022 presidential candidates fear a possible data privacy breach. Users who received the unwanted messages said they started receiving these on Sunday, March 6. The messages claimed to endorse either Ferdinand Marcos Jr. or Vice President Leni Robredo. Read more here.
SEC HALTS INVESTMENT SCHEME OF ONLINE FIRM PAWISNGPINOY
The Securities and Exchange Commission (SEC) has ordered PawisngPinoyOnline Investment to stop soliciting investments from the public through a non-existent product distribution, real estate, and jewelry business. In an order dated March 1, the SEC directed PawisngPinoy to immediately cease from engaging in the unauthorized solicitation or sale of securities without the necessary license and approval from the SEC. Read more here.
PH GOV'T, SPACEX EXECS MEET IN US TO DISCUSS PLANS TO PUT UP PH UNIT
Officials of the Philippine government met with executives from SpaceX last Nov. 16, 2021 at the Philippine Embassy in Washington DC to discuss the aerospace firm's plan to put up a wholly-owned Philippine-registered subsidiary.
The US company is eyeing to offer satellite Internet services in the Philippines, particularly on providing broadband connectivity to remote areas where traditional cable-based Internet is limited or virtually absent. Read more here.
PLDT FOLLOWS CONVERGE INTO SATELLITE INTERNET SERVICES
PLDT Inc. said it was a "step closer" to offering satellite services to communities and businesses in far-flung areas of the Philippines following a successful test run with satellite operator Telesat of Canada. The on-orbit testing of high- speed broadband involved Telesat's Phase 1 Low Earth Orbit (LEO) satellite. This was conducted last Feb. 11 to Feb. 19 using PLDT's ground antennas located at its office in Greenhills, San Juan, in Metro Manila. Read more here.
FIGHT RISING ONLINE CHILD SEX ABUSE, GOVERNMENT URGED
Civil society and watchdog groups called for closer collaboration between government agencies and private sector to fight rising cases of online sexual abuse and exploitation of children (OSAEC). Government revealed last year that transaction reports related to online sexual exploitation rose from 19,000 in 2019 to 47,937 in 2020 when mobility restrictions were imposed to halt the pandemic. The median age of those involved in these transactions is 11. Read more here.
BSP FINTECH HEAD URGES RECALIBRATION OF FINANCIAL INCLUSION STRATEGY
Digital adoption, particularly the use of financial technology (fintech), has played a key role in the provision of financial services in the Philippines amid the paralyzing effects of the Covid-19 pandemic. This was pointed out by Jovelyn Hao, Bangko Sentral ng Pilipinas (BSP)'s FinTech Innovation and Policy Research Group acting head, during a webinar recently organized by the Philippine Institute for Development Studies (PIDS). However, given the current fast-paced development of the country's digital financial landscape, she emphasized the need to recalibrate its financial inclusion strategy. Read more here.
DBP INKS PACT WITH CICC TO BOLSTER CYBER RESILIENCY
State-owned Development Bank of the Philippines (DBP) has signed a memorandum of agreement with the Cybercrime Investigation and Coordinating Center (CICC) to further strengthen the bank against potential cybersecurity threats and boost its capacity to defend critical system infrastructure, a top official said. Read more here.
E-WALLET PLATFORMS BEING USED BY MINORS TO BET ON 'E-SABONG', SENATORS SAY
Senators have called on authorities and financial institutions to closely monitor e-wallet providers whose platforms are allegedly being used by minors to place bets on "e-sabong" or online cockfighting. During the hearing conducted by the Senate Committee on Public Order and Dangerous Drugs last Friday, March 4, in connection with the mysterious disappearances of close to three dozen cockfighting aficionados involved in e-sabong, senators Francis Tolentino and Ronald dela Rosa said underaged bettors are using e-wallets to engage in gambling. Read more here.
QUIBOLOY WORKERS FILE A DOZEN CYBER LIBEL COMPLAINTS VS RAPPLER
Members of Davao City-based preacher Apollo Quiboloy's Kingdom of Jesus Christ (KOJC) church filed a dozen cyber libel complaints against Rappler Incorporated, its journalists, and four people interviewed for a series of investigative reports and videos published on the news website. Read more here.
CYBER ATTACK HITS CNN PHILIPPINES WEBSITE DURING PRESIDENTIAL DEBATE
The website of CNN Philippines was hit a Distributed Denial of Service (DDoS) attack as its presidential debate was being held on Sunday. According to an official statement published through social media, CNN Philippines said its website was inaccessible amid the #CNNPHPresidentialDebate due to a DDoS attack. Read more here.
PLDT, SMART SECURE OVER 50K NEW PERMITS
Telco giant PLDT Inc. and its wireless arm Smart Communications Inc. continue to benefit from the streamlining of government permitting guidelines for telecommunications infrastructure. PLDT and Smart said they have secured more than 50,000 fixed and wireless permits as of February. Read more here.
FMA'S STATEMENT ON INTERNATIONAL WOMEN'S DAY 2022 
International Women's Day is a global day of celebrating the social, economic, cultural and political achievements of women. The day also marks a call to continue women's activism and use technology for empowerment and gender equality amid continued threats to women's freedom. Read our statement here.
DOWNLOAD: ON SATELLITE INTERNET SERVICES, CYBER ATTACKS AND CYBER LIBEL: THE FMA DIGITAL RIGHTS ROUNDUP (1-15 March 2022)
All resources here are linked to the original websites. If any of the resources will be used otherwise, please do credit the source.
---

---