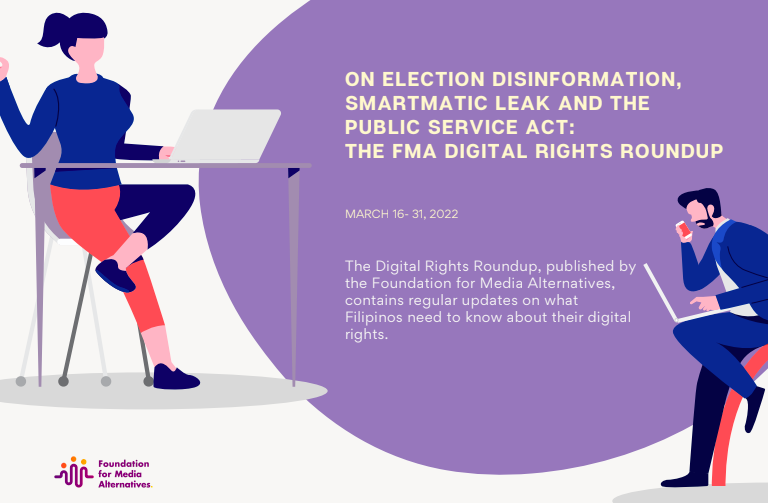 DUTERTE SIGNS AMENDMENTS TO PUBLIC SERVICE ACT
President Duterte has signed into law the measure amending the Public Service Act (PSA), saying this will help the economy recover from the effects of the Covid-19 pandemic. In his speech, the President thanked Congress for the "timely ratification of the amendment of the Public Service Act" as it aids in leading the country to economic recovery from the ongoing public health crisis.The amendments aim to encourage investment in sectors essential to public welfare, effectively opening up to 100 percent the foreign equity across economic sectors. Read more here.
ECON MANAGERS, BIZ GROUPS BACK NEW LAW ALLOWING FULL FOREIGN OWNERSHIP IN TELCOS, KEY SECTORS
Business groups and government agencies were unanimous in their support for the enactment of Republic Act 11659 or the amendments to the Public Service Act (PSA), which Pres. Rodrigo Duterte signed into law on Monday, March21. Read more here.
LAWMAKERS CITE SMARTMATIC LEAK; LET'S WAIT FOR NBI, SAYS COMELEC
Sen. Imee Marcos and Senate President Vicente Sotto III on Thursday said a hackers' group had obtained confidential election data, which was first reported early this year, from Smartmatic Inc., the service provider of the country's automated election system. Marcos, chair of the joint congressional oversight committee (JCOC) on the elections, said an unidentified Smartmatic employee had allowed the hackers to copy data from a laptop issued by the company. Read more here.
IN HOUSE HEARING, SMARTMATIC DENIES ITS SYSTEM WAS HACKED
A lawyer for poll machines provider Smartmatic has rejected claims that its election system was hacked during an online hearing on Monday, March 21, conducted by the House Committee on Suffrage and Electoral Reforms.
Senators Imee Marcos and Vicente "Tito" Sotto earlier claimed that an executive session they attended gave them the impression the Smartmatic system was breached. Read more here.
ELECTION DISINFORMATION EFFORTS TARGET TO DAMAGE ROBREDO'S IMAGE, BOOST MARCOS JR.'S
As the election campaign season heats up, disinformation efforts are in overdrive in an attempt to elevate or belittle presidential candidates. The University of the Philippines – College of Mass Communication, through the Office of Research and Publication, organized a Brown Bag Series lecture entitled "Deconstructing election misinformation via Tsek.ph fact checks" via Zoom on March 16, Wednesday. Journalism professor and Tsek.ph project leader Yvonne Chua was guest lecturer. Read more here.
MARCOS JR. WINNING PH POLL MISINFORMATION RACE–ANALYSIS
Philippine social media has exploded with support for presidential election favorite Ferdinand Marcos Jr., driven by a massive misinformation campaign aimed at revamping the family brand and smearing his top rival.
False and misleading claims have flooded Facebook, YouTube, TikTok and Twitter in the lead-up to the May 9 polls, pounding Filipinos with a relentless barrage of propaganda on platforms where they rank among the heaviest users in the world. Read more here.
ELECTION TWEETS OF MARCOS, ROBREDO SUPPORTERS SHOW POLITICAL POLARIZATION – STUDY
A #FactsFirstPH study analyzing the election-related chatter of Twitter users supporting presidential candidates Leni Robredo and Ferdinand "Bongbong" Marcos Jr. showed political polarization that facilitates the spread of fake news and disinformation. Read more here.
JOURNALIST SAYS FACEBOOK ACCOUNT HACKED, POSTED PRO-MARCOS CONTENT
A Filipino journalist said his Facebook account was compromised in the wee hours of Friday and began sharing nude photos of girls and posting content in favor of the Marcoses. Anthony Esguerra, who reports for VICE News and Voice of America, said his account on the social media platform was accessed by someone who appears to be in Vietnam despite having two-factor authentication, backup codes and Facebook Protect, which is supposed to provide stronger security for high-profile users. Read more here.
FILIPINO YOUTH OVERESTIMATE THEIR ABILITY TO SPOT FAKE NEWS, ACCORDING TO SURVEY
Young Filipinos aged 18 to 39 years old are confident in their ability to identify false information online, according to a 2021 survey about fake news in social media. The survey, conducted from November to December 2021, found that Filipino youth are now more aware of the flow of information and communication online, which is relatively "less guarded, more direct, and more sensationalized." Read more here.
TWITTER INKS PARTNERSHIP WITH COMELEC FOR MAY POLLS
In the lead up to the May elections, Twitter has partnered with the Commission on Elections (Comelec) to amplify voter education initiatives to protect the integrity of election-centric conversations on the platform and encourage healthy civic debate. Read more here.
ROBREDO SUPPORTERS IN CALIFORNIA TO YOUTUBE: STOP SPREAD OF 'FAKE NEWS'
Filipino Americans in support of Philippine Vice President Leni Robredo's 2022 presidential bid recently held a protest in front of the YouTube headquarters in the San Francisco Bay Area. They called on the online video-sharing and social media platform owned by Google to stop the spread of misinformation, allegedly perpetrated by supporters of Robredo's political rival Bongbong Marcos. Read more here.
YOUTUBE ASKS PROTESTERS FOR HELP IN FLAGGING FAKE NEWS ON PH ELECTIONS
Tech giant YouTube urged protesters to send videos they regard as fake news or information, particularly on the coming Philippine presidential election in May, so these may be flagged for possible suspension or total removal from the platform if warranted. This developed after an exchange of emails with Filipino organizations US Pinoys for Good Governance (USP4GG); Kakampink 1Sambayan; Malaya; Akbayan North America; and Filipino-American Human Rights Alliance (FAHRA), all allied in Movement Against Disinformation (MAD). MAD members recently picketed YouTube headquarters in San Bruno, California. Read more here.
BERNARDO FILES CYBERLIBEL RAPS VS VICO
Pasig City Vice Mayor Iyo Caruncho Bernardo on Friday filed a cyberlibel complaint against Mayor Vico Sotto, his opponent in the mayoralty race in the coming local election. The complaint was based on Sotto's speech during a flag-raising ceremony in January, where the incumbent mayor called Bernardo "uncooperative and unsupportive" of the city government's programs, policies and agenda. Read more here.
GROUPS MOUNT PUSHBACK VS BADOY FOR RED-TAGGING
More criminal complaints of alleged red-tagging were filed against Lorraine Badoy, a spokesperson for the government's anti-communist task force who had accused Vice President Leni Robredo of colluding with communist rebels and making a "pact with the devil" to win the presidency in the May 9 elections. Read more here.
DE LIMA EYES LEGAL ACTION VS PEOPLE SPREADING FAKE NEWS THAT SHE'S DEAD
Senator Leila de Lima is eyeing legal action against those responsible for false information spreading online claiming that she has passed away. In a dispatch from Camp Crame on Friday, De Lima lamented the spread of false content on social media about her supposed death. De Lima said she is determined to bring the matter to court, in due time. Read more here.
HOUSE PANEL EYEING TAX ON FOREIGN-BASED ONLINE SELLERS
As the demand for digital service providers continues to rise amid the Covid-19 pandemic, the House Committee on Ways and Means chaired Albay 4th district representative Joey Sarte Salceda held a briefing Monday, March 14, with the Bureau of Internal Revenue (BIR) on the taxation of online transactions of non- resident foreign corporations (NRFCs). Read more here.
6 GOV'T AGENCIES ISSUE JOINT ORDER AGAINST ONLINE SELLING OF FAKE, PROHIBITED ITEMS
In response to the proliferation of prohibited and regulated products sold on marketplace platforms and social media marketplaces, six government agencies have issued a consolidated order to caution online merchants against the sale of unlicensed, restricted, or prohibited products. Read more here.
CYBERATTACKS POSE CLEAR AND PRESENT DANGER TO PHL
As cyberattacks surge around the world, the Philippines is still at the "infancy" stage in terms of cybersecurity, raising worries over the government and private sector's ability to handle present and future cyberthreats.
Six years after the country's cybersecurity framework was launched, Department of Information and Communications and Technology (DICT) Acting Secretary Emmanuel Rey R. Caintic said that based on observations, there is still much work to be done to strengthen the country's defenses against cyberthreats and attacks. Read more here.
ONLINE REPORTS PUSH COUNTERFEITING COMPLAINTS TO NEW RECORD
The Intellectual Property Office of the Philippines (IPOPHL) said it received 151 counterfeiting and piracy reports from consumers and complaints from rights holders in 2021, surpassing the previous record-high of 121 in 2020 and registering a 25-percent year-on-year increase. Read more here.
FILIPINOS MUST BE CAREFUL IN DOING ONLINE TRANSACTIONS, SAYS THINK TANK
According to CitizenWatch Philippines co-convenor Tim Abejo, a lot of Filipinos are now doing a huge bulk of daily activities online, to avoid exposure from COVID-19. Hence, scrupulous individuals have tried to take advantage of this situation in committing cybercrime. Read more here.
PSA TO ROLL OUT MOBILE PHONE VERSION OF NATIONAL ID
The Philippine Statistics Authority (PSA) said it is set to launch a mobile version of the PhilID as a digital alternative to the physical PhilID card to maximize the use of the PhilSys in digital transactions. Read more here.
LOW-ORBIT SATELLITES PITCHED AS SOLUTION TO PH INTERNET ACCESS WOES
It's no secret that Internet access across the country is severely limited. In fact, according to the National ICT Household Survey, 82% of Philippine households had no Internet access in 2019. There is emerging technology, though, that is poised to increase the country's Internet access: Low Earth Orbit (LEO) satellites. Read more here.
GLOBE EYES PARTNERING WITH AVIATION INDUSTRY VS. ONLINE FRAUD
Digital solutions group Globe is looking at partnering with the airline industry in fighting online fraud, an executive said."We are looking at partnering with the airline industry because they are reopening," Globe's chief information security officer Anton Bonifacio said in a webinar. Read more here.
SEC REVOKES LICENSE OF ONLINE FIRM FOR VIOLATING MORATORIUM ON NEW LENDING PLATFORMS
The Securities and Exchange Commission (SEC) said it has revoked the license of Cashtrees Lending Corporation for launching and operating unregistered online lending platforms (OLPs) amid a moratorium imposed by the commission. Read more here.
DEPED TAPS VIDEO GAME MINECRAFT AS LEARNING TOOL
The Department of Education (DepEd) is embracing the concept of "game-based teaching,'' after the restrictions prompted by the pandemic forced the agency to adopt new methods to help enliven the learning experience of students. Read more here.
All resources here are linked to the original websites. If any of the resources will be used otherwise, please do credit the source.
---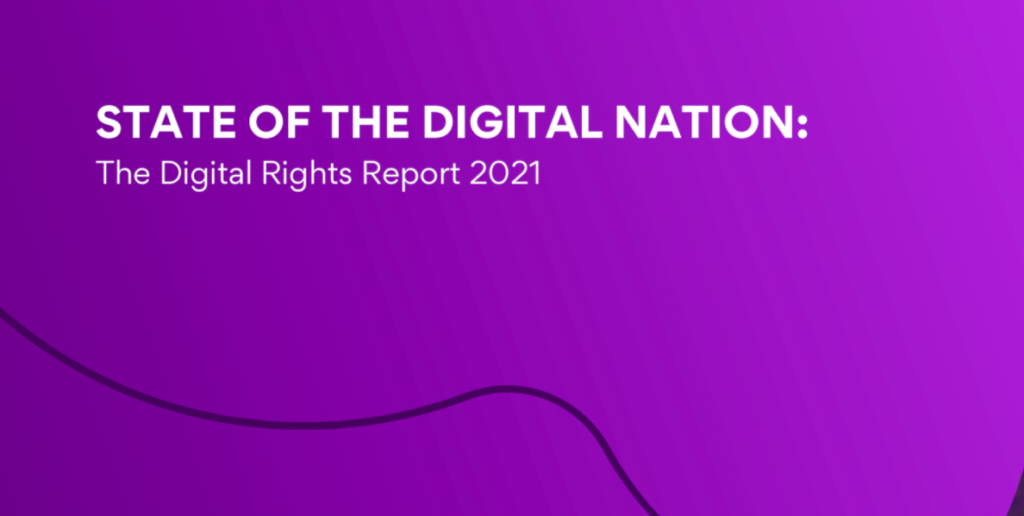 This report is a documentation of what transpired in 2021, specifically how human rights were impacted by technology and digital innovations in the Philippines. Download here: https://bit.ly/FMADRReport2021
---
Do you feel trapped in your political echo chamber? Here's an opportunity to step out of it! SML: Share Mo Lang Voters' Forum is a space for meaningful and respectful discourse among voters in the 2022 elections. It encourages citizens to break their echo chambers to understand other people's experiences and points of view.
SML Voters' Forum is co-organized by the Asian Institute of Journalism and Communication, Break The Fake, Foundation for Media Alternatives, Out of The Box, Yabong Philippines, e-Boto , and Pinas Forward PH , with support from Internews and USAID – US Agency for International Development.
Full event details at bit.ly/SMLVOTERS. See you there!
---
S U B S C R I B E  T O  U P  I N T E R N E T !
Subscribe to UP Internet's telegram channel for latest news and updates at your fingertips.
The UP Internet Freedom Network (UP INTERNET) is an alliance of students and volunteers advocating for internet freedom.

Send them an e-mail them at upinternet.org@protonmail.com for inquiries.