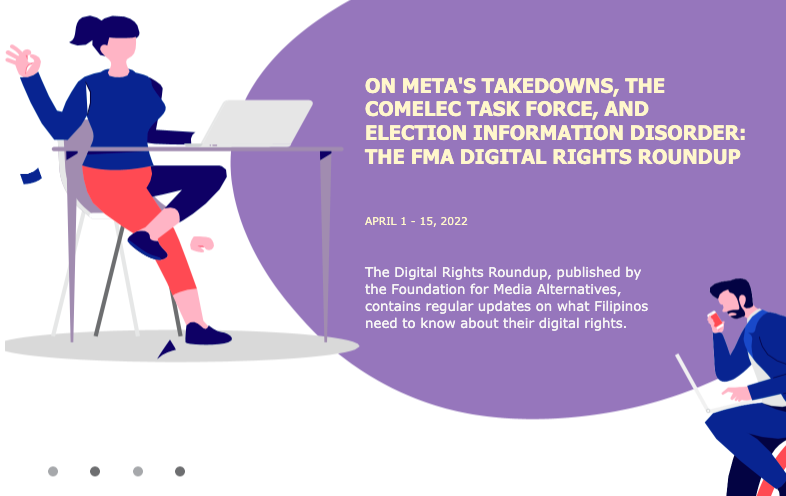 The Commission on Elections (Comelec) en banc approved the creation of a task force that seeks to crack down on individuals and entities propagating election-related disinformation – specifically against the poll body.
Commissioner George Garcia said he will lead "Task Force Kontra Fake News," with Commissioner Aimee Torrefranca-Neri as vice chairperson. The Comelec also clarifies that its newly created task force will not go after peddlers of false information against candidates. Read more here.
Meta Platforms on April 6 suspended a network of over 400 accounts, pages and groups ahead of general elections in the Philippines as the Facebook parent moves to crack down on hate speech, misinformation, and disinformation. The accounts included "a network of over 400 accounts, Pages, and Groups in the Philippines that worked together to systematically violate our Community Standards and evade enforcement." Read more here.
Journalists covering May's presidential election in the Philippines say false news and online attacks are making reporting a challenge. As candidates, including front-runner Ferdinand Marcos Jr., vie to take the helm from Rodrigo Duterte, disinformation is ramping up. Journalists covering the election and politics further describe a hostile environment fostered toward media by Duterte and his supporters, and online trolling and attacks. Read more here.
Facebook flagged two pages with millions of followers on the platform that were found to violate some of its community standards. Attempting to "like" the VinCentiments and SMNI News Facebook page will show a notice to the Facebook user. Read more here.
The presidential campaign of dictator's son Ferdinand "Bongbong" Marcos Jr. is reaping benefits from a long- time disinformation machinery that not only whitewashed the atrocities under Martial Law but also targeted critics and political opponents, among others. Fatima Gaw, assistant professor of communication research at the University of the Philippines College of Mass Communication, said that disinformation "is really priming the audience to rationalize [the Marcos] lies and distortions." Read more here.
Research from the Far Eastern University Public Policy Center (FPPC), which is part of the #FactsFirstPH initiative, reported that Araling Panlipunan (social studies) textbooks used by Grade 5 and Grade 6 students in the Philippines leave a lot to be desired when it comes to their coverage of the Marcos administration. School textbooks used by the students have been found lacking in thorough discussion of the Marcos years, potentially leaving students vulnerable to online disinformation. Read more here.
The Philippines education ministry came under fire from teachers on Friday over a learning module that contained negative content about presidential candidate Leni Robredo, and praise for incumbent Rodrigo Duterte, including a fake endorsement from Britain's queen. In one online module, students age 17-18 were required to identify spelling, grammar and content errors from a sample of news headlines, and detect statements that were "unsubstantiated generalizations", all of which involved opposition leader Robredo. Read more here.
Facebook owner Meta on April 7 announced it had taken down a network of 400 accounts, pages and groups that have "claimed credit for bringing down websites and defacing them, including news entities' websites." The "coordinated violative network" had worked together "to systematically violate multiple policies on our platforms against coordinated harm, bullying or harassment, hate speech, misinformation, and incitement to violence." Read more here.
Sweden-based digital forensics non-profit Qurium Media, in a blog post dated March 9, identified one of the members of the hacking group that had been conducting DDoS attacks on news websites that included ABS-CBN, CNN Philippines, and Rappler. These attacks also hit certain opposition politicians such as Leni Robredo, through the Office of the Vice President website, Dick Gordon, and Leila de Lima. Read more here.
The Supreme Court (SC), through the Office of the Court Administrator (OCA), on March 25 reminded court employees that the improper use of social media may result in administrative charges. The High Court said that judges and court personnel are covered by OCA Circular No. 173-2017, which provides penalties for the "improper sharing of photographs and status updates, posting of views, opinions, comments, uploading personal videos, and liking/reacting to posts in social networking platforms" such as Facebook, YouTube, and Twitter. Read more here.
NTC ASKED TO RECALL NOW TELECOM'S RADIO FREQUENCIES
Three people filed a complaint before the National Telecommunications Company (NTC) and asked the agency to recall the radio frequencies of NOW Telecom Company Inc. According to the complainants, the NTC should recall the radio frequencies assigned to NOW Telecom "in view of its inefficient use, non-operation, circumvention, and nonpayment of Spectrum User Fees (SUF) and violations of the terms and conditions of its Provisional Authority. Read more here.
The Securities and Exchange Commission (SEC) has ordered six online lending operators to stop conducting lending activities without the necessary license from the agency. In an order issued March 22, the SEC directed PesoKwento, Pondo Cash, TBAG, Cash Sky, Loan Cash, and East Cash to immediately cease and desist from engaging in any lending activity until they have incorporated and secured the requisite authorization from the agency. Read more here.
Some Philippine presidential candidates in the May 9 elections are looking into providing the public fast Internet service by negotiating with foreign technology providers for low-earth orbit (LEO) satellites. This came as the Philippine Space Agency (PhilSA), United States Agency for International Development (USAID) and the Asian Development Bank (ADB) are seeking the potential of LEO satellites in connecting more households in remote areas in the country. Read more here.
Globe Telecom sounded the alarm on scammers exploiting the Russia-Ukraine conflict by launching phishing attacks disguised as humanitarian aid initiatives. The Ayala-led telecom firm said in a statement on Wednesday that the public would need to be vigilant as the war in eastern Europe was also leading to a surge in phishing attacks. Read more here.
SpaceX, a company founded by tech billionaire Elon Musk, will launch its satellite internet service in the Philippines sometime in the last few months of the Duterte administration, said Trade and Industry Secretary Ramon Lopez.
Lopez told reporters in a Viber message that the service will be launched in the next three months. Read more here.
The Department of Education (DepEd) said on Tuesday, March 29, that it is mapping out a "recovery plan" to address the learning gaps caused by the COVID-19 pandemic. Education Secretary Leonor Briones said that the recovery plan is part of the DepEd's "post-pandemic efforts." Read more here.
Less than 15 percent of schoolchildren in the Philippines, or about three in every 20, can read simple texts in large part due to the longest schools closure of more than 70 weeks as of the middle of February caused by the COVID- 19 pandemic, the United Nations Children's Fund (Unicef) said in a report. The latest Unicef assessment translates to a learning poverty—defined by the World Bank as the share of 10-year-olds who cannot read or understand a simple story—of more than 85 percent, which is slightly better than the World Bank estimate of as high as 90 percent in November of last year. Read more here.
As the COVID-19 pandemic continued to worsen the learning loss of children globally, emerging data from the United Nations Children's Fund (Unicef) found that many children have dropped out as classrooms reopened for in- person classes. In the Philippines, the number of out-of-school youth rose at the onset of the pandemic from 16.9 percent in January 2020 to 25.2 percent three months later in April 2020, based on a study released by the US Agency for International Development in November 2021. Read more here.
Five women have been convicted by a trial court in Lapu-Lapu City, Cebu province, after pleading guilty to online sexual exploitation of children who were from age 2 to 12 years old. Two of the women, whose names were withheld to protect the victims' identities, entered into a plea bargaining agreement and were sentenced to 15 years in prison for a lesser offense of attempted trafficking. Plea bargaining is when an accused pleads guilty to a lesser offense, so he or she gets a lighter sentence. Read more here.
The Bangko Sentral ng Pilipinas (BSP) said it is exploring ways to foster digital financial innovation by enabling banks, electronic money issuers (EMIs) and financial service providers (FSPs) to transact with customers in a digital marketplace. The central bank said the digital financial marketplace model is anchored on the Open Finance Framework, which allows the sharing of financial data of consenting customers to create innovative financial solutions that cater to their needs. Read more here.
*All resources here are linked to the original websites. If any of the resources will be used otherwise, please do credit the source.