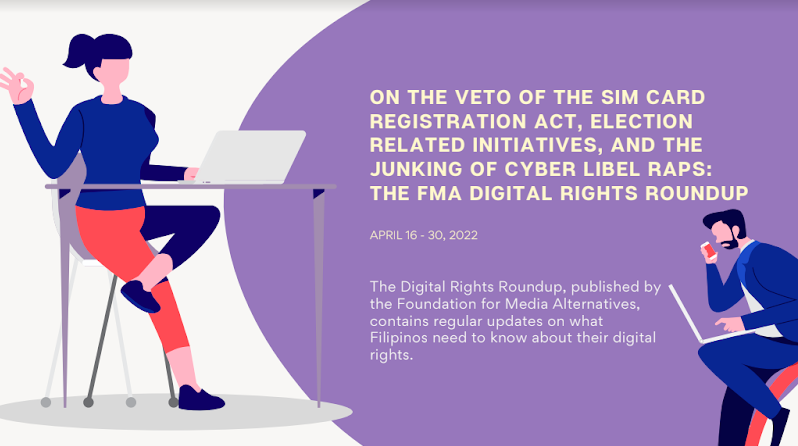 DUTERTE VETOES SIM REGISTRATION BILL DUE TO MANDATORY REGISTRATION OF SOCIAL MEDIA ACCOUNTS
Pres. Rodrigo Duterte has vetoed the proposed Subscriber Identity Module (SIM) Card Registration Act, Malacañang said on April 15. The provision ordering the mandatory registration of social media accounts prompted Duterte to veto the measure, acting presidential spokesperson Martin Andanar said in a press statement. Read more here.
DRILON SAYS VETO OF SIM CARD REGISTRATION BILL A 'BIG WIN FOR TROLLS'
President Rodrigo Duterte's veto of the proposed SIM card registration law is a big win for trolls Senate Minority Leader Franklin Drilon said Saturday. "By vetoing this bill, the President lets trolls thrive, spread lies and hate, and fuel discord and division," Drilon said in a statement. Read more here.
POE HOPES CONGRESS OVERRIDES DUTERTE VETO ON SIM CARD, SOCIAL MEDIA REGISTRATION BILL
Senator Grace Poe is hoping that the 18th Congress would move to override President Rodrigo Duterte's veto on the bill that would have required Filipinos to register ownership of their SIM cards and use of their real names when creating social media accounts. Poe, who defended the bill in plenary as chair of the Senate Committee on Public Services argued that the consolidated version of Senate Bill (SB) No. 2395 and House Bill No. 5793 is constitutional. Read more here.
TELCOS TO REWORK VETOED SIM BILL
Dominant telecommunication players have vowed to continue working with the government on the recently vetoed SIM (subscriber identity module) card registration bill as they push for better online consumer protection. Read more here.
COMELEC EYES TO PROSECUTE INDIVIDUALS SPREADING FAKE NEWS ABOUT EXIT POLLS
The Commission on Elections is planning to go after individuals who are responsible for spreading results of unreliable exit polls. "We will go after any individual na nagpapakalat ng (spreading) fake news. What will be the proper case or violation, we will likewise study that," said Comelec Commissioner George Garcia. "The option that we have is prosecution." Read more here.
DFA EXEC PINS 'PRE-SHADED' BALLOTS ON HUMAN ERROR
A series of "human errors" made by consultate personnel handling official ballots for overseas absentee voting (OAV) has caused what was earlier reported as "pre-shaded" ballots, an official of the Department of Foreign Affairs (DFA) told the Senate. Brigido Dulay, the DFA undersecretary for civilan security and consular affairs, denied report mainly on social media that pre-shaded ballots, purportedly meant to benefit presidential candidate Ferdinand Marcos Jr. and his running mate, Sara Duterte, were handed out at various overseas polling posts. Read more here.
NBI RAIDS SMARTMATIC EMPLOYEE'S HOUSE
The National Bureau of Investigation (NBI) raided on Sunday the house of a Smartmatic employee who allegedly stole a laptop of the country's automated elections service provider and is a suspect in the company's security breach. NBI spokesperson Ferdinand Lavin confirmed that the NBI conducted an operation on the house of Ricardo Argana in San Pedro, Laguna "in connection with the Smartmatic investigations." Read more here.
PAMPANGA VOTERS SAY TEXT BLAST PROMOTING MARCOS JR., SARA RAISES PRIVACY CONCERNS
An apparent text blast promoting presidential aspirant Ferdinand Marcos Jr. and his running mate, Davao City Mayor Sara Duterte-Carpio, has raised data privacy issues among mobile phone subscribers in Pampanga province. "Ali e sayangan ing boto. Keni naka king sigurado. Marcos (7) ampo Duterte (4) king Mayo 9 (Don't waste your vote. Go for sure winners. Marcos (7) and Duterte (4) on May 9)," went the text message from 09497513839. The same text message was sent to other recipients. Read more here.
COMELEC PARTNERS WITH CHED FOR VOTER EDUCATION
Comelec has partnered with the Commission on Higher Education (Ched) for voter education and information campaign. Comelec and Ched signed a memorandum of agreement at the Palacio Del Gobernador Building. Ched Executive Director Cinderella Filipina Benitez-Jaro stressed that voter education and information discuss details of the election day, individual's rights as a voter, and how they could be empowered through voting. Read more here.
META TO ACTIVATE ELECTIONS OPERATION CENTER IN THE COUNTRY
Meta will be activating an Elections Operation Center in the country to monitor critical issues and respond to emerging risks in real-time. Meta, the parent organization of Facebook, Instagram, and WhatsApp shared this news during a press briefing. The Meta Elections Operation Center is a war room with subject matter experts from across the company on critical issues including misinformation, safety, human rights, and cybersecurity — similar to the ones established during the Brazilian and US elections in the past years. This team will include local experts who can speak the vernacular and have a deep understanding of the context on the ground. Read more here.
PHILIPPINE 'AVENGERS' BATTLE DISINFORMATION BEFORE ELECTION
Media firms, universities, civil society groups, lawyers, and church leaders form fact-checking coalitions in an unprecedented effort to counter election disinformation. "We've seen the damage lies can do. We know that it's impossible to have integrity of elections when we don't have integrity of facts," said Maria Ressa, chief executive of Rappler, a digital media outlet, which is part of FactsFirstPH, a fact-checking collaborative of about 150 organizations. "In this 'Avengers Assemble' moment, there is strength in standing together. We know what happens when we don't stand up for facts," said Ressa, referring to a gathering of superheroes who take on the villains in the Marvel film. Read more here.
NON-POLITICAL FACEBOOK PAGES USED FOR ELECTION DISINFORMATION – STUDY
A new study found that non-political Facebook pages in the Philippines participate in election discourse by sharing content from partisan sources and cascading posts about political candidates. They were also found to be engaged in disinformation and the spread of disguised propaganda. The study, entitled "Cloaked Politics: The political involvement of non-political Facebook pages in the 2022 Presidential Elections," was conducted by associate professor Jon Benedik A. Bunquin, Julienne M. Urrea, and Myrnelle A. Cinco of the University of the Philippines Diliman Communication Research Department. Read more here.
YOUTUBE CHANNELS 'HIJACKING' NEWS GENRE TO INFLUENCE PH POLLS – STUDY
Hyperpartisan channels posing as legitimate "news" channels use online video sharing and social media platform YouTube to influence the upcoming elections in the Philippines, according to the findings of University of the Philippines (UP) researchers. "The rise of Meta-partisan 'news' ecosystems on YouTube," a study done by researchers Fatima Gaw, Ira Cruz, and Luisa Pineda, noted the disinformation being propagated on the platform by so-called "news" channels for the 2022 Philippine elections. Read more here.