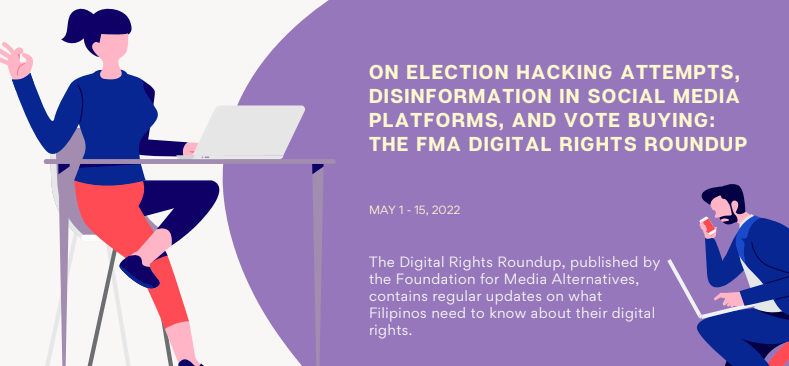 PPCRV FINDS 1.6% MISMATCH IN ELECTION RETURNS
The Parish Pastoral Council for Responsible Voting (PPCRV), the private sector partner of the Commission on Elections (Comelec) reported mismatches between the printed election returns (ERs) and those sent to the poll body's transparency server. Van dela Cruz, the spokesperson for the PPCRV, said the PPCRV found the mismatches in 240 ERs and the group will have to review them, but the matching rate remained at 98.39 percent match and the 1.61-percent mismatch would likely not affect the results of the contests for national positions. Read more here.
'VOTE-BUYING' SPREE DRIVES MOBILE PHONE SALES
Mobile phones are selling like hotcakes after the May 9 general elections, thanks to local politics. For two straight days after the polls, many of the popular mobile phone brands were sold out in the three shopping malls in this province as residents from the neighboring towns of Tagbina, Barobo, and Lianga in Surigao del Sur province went on a shopping frenzy. Read more here.
GOV'T BLOCKED OVER 20,000 ATTEMPTS TO HACK ELEKSYON 2022
There were more than 20,000 attempts to hack the system prior to and during the May 2022 national and local elections, said national security adiser Hermogenes Esperon Jr. During the Kapihan sa Manila Bay, Esperon said the government was able to prevent these hacking attempts from being successful. Read more here.
MEN ARRESTED OVER SMARTMATIC 'DATA BREACH'
Authorities announced on April 26, that it arrested three members of a hackers' group allegedly behind the supposed data breach involving poll software provider Smartmatic. In a press briefing, the Philippine National Police (PNP) and the Cybercrime Investigation and Coordination Center (CICC) said hackers tied to XSOX were captured following an entrapment operation in Imus City in Cavite and Sta. Rosa City in Laguna on April 23. Read more here.
SUSPICIOUS FB PAGE EMERGES AFTER ROBREDO BARES NGO PLAN
Just a day after Vice President Leni Robredo announced that she would continue serving Filipinos through a foundation anchored on her landmark "Angat Buhay" (Uplift Lives) program after she steps down, some of her supporters flagged what they described as a dubious Facebook group with a similar name that had attracted tens of thousands so far. Read more here.
BASTE DUTERTE DISOWNS FAN PAGE CALLING FOR UP SHUTDOWN
The office of the Davao City Vice Mayor and Davao City Mayor-elect Sebastian "Baste" Duterte has disowned a Facebook Fan Page that is criticizing the opposition and its supporters. The office also pointed out that this was not the first that fan pages used the name of the mayor-elect as just two months ago, the office cautioned the public about the existence of these pages. Read more here.
META SUSPENDS, RESTORES ACCOUNT OF MARCOS STAFF
Meta Platforms, Inc., which operates Facebook, suspended the account of former Senator Ferdinand "Bongbong"
R. Marcos, Jr.'s spokesman on Monday, weeks after the social media giant launched a crackdown on hate speech and misinformation in the Philippines. The social media platform restored it a day later after it was incorrectly flagged as an impostor account, according to him. Read more here.
MARCOS CLAIMS OF ORGANIC SOCIAL MEDIA PRESENCE AMID FACEBOOK TAKEDOWN, DARES INTERNATIONAL MEDIA FOR PROOF
Presidential candidate Ferdinand "Bongbong" Marcos Jr. insisted his social media presence remains organic despite recent reports by the foreign media that he is building a web of online disinformation and the removal of some Facebook accounts linked to him. Read more here.
HANDFUL OF 'TRUTHTOKERS' COUNT ON PUBLIC PUSHBACK
With only a handful of legitimate fact-checkers in the media industry, disinformation on the platform has become so widespread that independent fact-checkers and others — or "TruthTokers" as they call themselves — felt compelled to clean up the platform. Read more here.
FIL-AM GROUP LAUNCHES 'TROLL EXPOSER' WEBSITE IN FIGHT AGAINST DISINFORMATION
The US Filipinos for Good Governance (USFGG) announced on May 3 the launch of trollexposer.com, a website "dedicated to exposing troll pages, accounts, and groups on Facebook." The group, composed of dual citizens of the Philippines and the US, has called it a new weapon in the arsenal in the fight against disinformation. It named presidential candidate Ferdinand Marcos Jr. in its press statement, mentioning how "rampant disinformation clearly favors him" while he continues to deny his use of trolls. Experts have said that Marcos Jr. has been reaping the benefits of years of disinformation while rival Leni Robredo has been found to have been a top target of disinformation. Read more here.
ROBREDO SPOKESPERSON FILES CYBER LIBEL CASE VS TABLOID
Lawyer Barry Gutierrez, the spokesman of Vice President Leni Robredo, has filed a cyber libel case against a Manila- based news organization for the supposed intentional publishing of a defamatory news article against him and the Vice President. Read more here.
STUDY FINDS DISINFORMATION VS MARCOS RIVALS ON YOUTUBE
A review of videos on YouTube from alternative sources with at least 100,000 views showed that supporters of Ferdinand "Bongbong" Marcos, Jr. use their platforms both to set narratives in favor of the former senator and to spread disinformation against his opponents. Read more here.
HOW YOUTUBE CAN REWRITE THE PAST AND SHAPE AN ELECTION
As the elections drew to a close on May 9, Ferdinand Marcos Jr, known as Bongbong, seemed all but assured to win the race against sitting vice president Leni Robredo. Despite the Marcos family's history of corruption and violence, Marcos Jr. has benefited from a consistent disinformation campaign, dedicated to rewriting the family's history and glorifying their years in power. A report from Tsek.ph, a fact-checking collaboration between 34 news and civil society organizations, found that "as of April 30, 92 percent of fact checks about Marcos were false or misleading information in his favor." Nearly all the disinformation about Robredo portrayed her negatively. Read more here.
AFTER HIS RESEARCH ON TROLL FARMS, FILIPINO PROFESSOR AWARDED $200K CARNEGIE GRANT FOR NEXT PROJECT
After his noteworthy research on political troll farms and fake news production in the Philippines, Filipino disinformation researcher Jonathan Corpus Ong is embarking on a new study. This time it will focus on the human cost of disinformation, a concerning topic affecting civil society workers and journalists. The study will delve into the precarious work conditions they find themselves in and the impact of toxic content to their job and mental health. Read more here.
BEST GOOD GOVERNANCE TOOL? EXPERT SAYS IT'S DIGITAL SHIFT WITH CITIZEN INCLUSION
An engaged citizenry will make the government more responsive. This was stressed by Dr. Sherwin Ona last April 28 as he said that the next administration should make digitalization a "priority," not only to make services faster but as a "tool for inclusion, innovation, resilience and good governance". Read more here.
DICT FLEXES REGULATORY MUSCLE OVER COURIERS, DELIVERY FIRMS
The Department of Information and Communications Technology (DICT), which has regulatory powers over courier and delivery firms, recently gathered the industry's local players to discuss pressing matters surrounding the sector. Read more here.
KIDS' BOOKS ABOUT DICTATORSHIP, MARTIAL LAW SPOOK PHILIPPINE INTEL CHIEF
The Philippines' intelligence chief on Thursday expressed alarm at children's books about dictatorship and about Martial Law and claimed without basis that these were part of a communist plot to "radicalize" Filipino children. National Intelligence Coordinating Agency Director-General Alex Monteagudo made the sweeping claim on his Facebook account, hours after plans to appoint Davao City Mayor Sara Duterte-Carpio — the presumptive vice president-elect — to head the education department were announced and sparked concerns over historical revisionism. Read more here.
SIX OUT OF 10 PHILIPPINE CHILDREN ARE AT RISK OF CYBERCRIME
According to Surfshark, the Philippines ranks second for child exposure to online risks after Thailand but before Turkey. Sexual exploitation, cyberbullying and hacking are the most common dangers. In the last two years, child pornography has also grown in parallel with remote learning. Read more here.
ONLINE CHILD SEX ABUSE SOARS DURING COVID-19, AS WESTERN PAEDOPHILES PAY TO WATCH ASIAN CHILDREN BEING VIOLATED ONLINE, OFTEN BY THEIR OWN FAMILIES
Children as young as three months old are being abused in the Philippines, where the pandemic and lockdown have led to a surge in these disgusting crimes. Read more here.
COMCLARK TAPS SES TO DELIVER CONTENT VIA SATELLITE TO PUBLIC SCHOOLS IN PH
Pampanga-based ComClark Network and Technology Corporation has announced that it has signed up satellite operator SES to deliver content to over 2,000 remote schools across the country via high-speed satellite-based connectivity. Read more here.
PH TO SUPPORT INT'L SYSTEM FOR DATA PROTECTION INTEROPERABILITY
The National Privacy Commission (NPC) said the Philippines will support the establishment of the Global Cross- Border Privacy Rules (CBPR) Forum for the interoperability of different regulatory approaches to data privacy and protection across the world. Read more here.
DATA CENTER FIRMS EYEING PH BUT STILL ON WAIT-AND-SEE ATTITUDE
The Philippine Economic Zone Authority (PEZA) said at least four foreign-based hyperscalers are looking into investing in the country but are still waiting for the developments of the May 9 polls before proceeding to their investment decision. Read more here.
BSP EYEING MACHINE LEARNING TO ENHANCE CENTRAL BANKING FUNCTIONS
The Bangko Sentral ng Pilipinas (BSP) said on May 6, that it is exploring applications of machine learning (ML) techniques, particularly in the areas of natural language processing, nowcasting, and banking supervision. Read more here.
MSMES NEED E-COMMERCE INFRA TO EXPLOIT RISING ONLINE BIZ IN PH, SAYS DTI EXEC
The country's micro, small and medium-sized enterprises (MSMEs) need a more secure e-commerce infrastructure if they are to take advantage of the current boom in online selling. Read more here.
All resources here are linked to the original websites. If any of the resources will be used otherwise, please do credit the source.