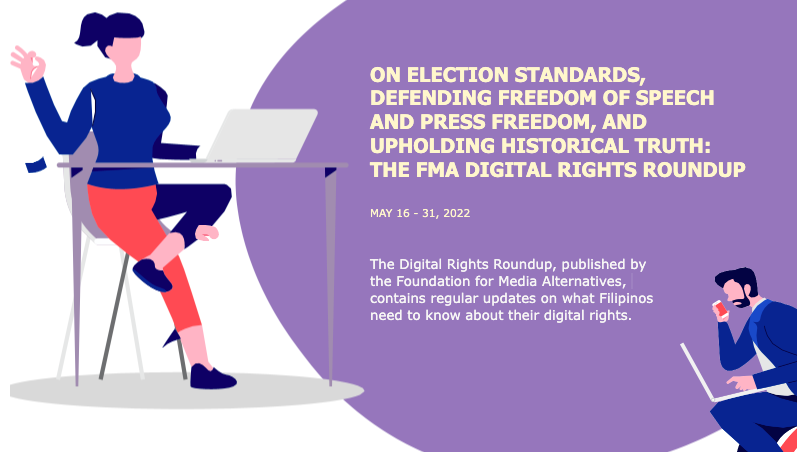 INT'L OBSERVERS: MAY 9 PH VOTE FALLS SHORT OF FREE, FAIR ELECTION STANDARDS
The election was "not free and fair". Séverine De Laveleye, a Belgian parliamentarian, said this as she presented the interim report of the International Observer Mission (IOM) on the May 9 elections. The IOM, which was launched by the International Coalition for Human Rights in the Philippines on Feb. 7 as a response to InvestigatePH's recommendation last year, had observed the 2022 elections. Read more here.
REJECTING THE PAST, MARCOS JR. MUST UPHOLD FREE SPEECH
If Ferdinand "Bongbong" Marcos Jr. leads as he campaigned, the foundations of Philippine democracy may be further at risk. Philippine voters handed Marcos Jr. a decisive victory in the presidential election on 9 May. It is not immediately clear how the president-elect will govern after offering very little in terms of policy substance while campaigning. But during the election, which is scheduled to be certified by the nation's Congress in the coming weeks, he showed a dangerous disregard for Philippine media and undermined the integrity of the online information space. Read more here.
KONTRA DAYA CLAIMS FRAUD IN ELEKSYON 2022
Election watchdog Kontra Daya on Thursday claimed there was fraud in the 2022 national and local elections. The group made the statement at the online launch of the interim report of the International Observers Mission for the 2022 Philippine elections, led by International Coalition for Human Rights. Read more here.
TIKTOK DEFENDS PLATFORM AMID CONCERNS OVER POLITICAL DISINFORMATION
Social media platform TikTok has denied being a "primary driver" of political disinformation during the recent national and local elections in the Philippines. Speaking with 'The Chiefs' over Cignal TV's One News, TikTok Philippines head of public policy Toff Rada said they have adopted a two-pronged approach to address disinformation ahead of the elections. "The problem of fake news, all platforms have to deal with that problem. All of us are taking action to remove it," he said in Filipino. Read more here.
EDUCATORS, SCHOLARS VOW 'DEFENSE OF HISTORICAL TRUTH'
More than 1,000 scholars and educators based in the Philippines and abroad have issued an online manifesto calling for the defense of historical truth and academic freedom, as they expressed concern over escalating attempts to revise narratives about the martial law years and erase "traumatic personal and collective memories of plunder and human rights violation" under the Marcos dictatorship. Read more here.
OVP: PILOT'S CLAIM VS ROBREDO 'NEVER HAPPENED', A 'MALICIOUS FABRICATION'
The Office of the Vice President (OVP) denied the "false story" on social media claiming Vice President Leni Robredo had requested a priority landing at the Ninoy Aquino International Airport (NAIA) which caused a diversion of flights. In a statement, the OVP said it "never happened" and that the tale was "a malicious fabrication." Read more here.
REPUTATION LAUNDERING AND POLITICAL MICROTARGETING: NEW TOOLS OF THE TRADE
The Philippines woke up on the morning of May 10, 2022 to election results that confirm how reputation laundering and political microtargeting have become, and are likely to continue as, the most important tools politicians use to decisively shape public opinion. The disruption caused by these new tech tools usher in a new political reality – that the Philippines is now governed by elected leaders who cannot be moral leaders.Reputation laundering is like money laundering – the process through which something dirty is made clean or acceptable. The principal difference is that while money laundering is a criminal offense, reputation laundering isn't. Read more here.
RAMON TULFO ARRESTED FOR CYBER LIBEL, SAYS MPD
Radio broadcaster and columnist Ramon "Mon" Tulfo was arrested on May 18 for cyber libel, the Manila Police District (MPD) has confirmed. According to reports from the city police, Tulfo was arrested at 10:05 a.m. inside the quadrangle of the Manila City Hall in Ermita, Manila by elements of the Special Mayor's Reaction Team (SMaRT) and the MPD. Read more here.
MEDIA WARY OF POSSIBLE LIMITED ACCESS TO PRESIDENT-ELECT BONGBONG MARCOS
A day after Congress proclaimed him as the country's next president, Ferdinand Marcos Jr. held a news conference where he discussed a broad range of issues that his administration would be dealing with and announced additional members of his future Cabinet after he takes office on June 30. The problem was that not all media outlets were invited to the event. Read more here.
HOW PHILIPPINE EDUCATION CONTRIBUTED TO THE RETURN OF THE MARCOSES
The inclusion of factual errors and blatant misinformation in school textbooks has provided fertile soil for the historical revisionism of the Marcos clan and its allies. Read more here.
YOUTUBE, TIKTOK ARE LEADING APPS FOR KIDS IN PH FROM JANUARY TO MARCH – KASPERSKY
Video streaming platforms YouTube and TikTok were the most popular mobile applications among Filipino youth between January and March, according to a report by Kaspersky. The international cybersecurity and digital privacy company has analyzed anonymized data like search queries, the most popular Android applications, and website categories during that period and found that the top five mobile applications where Filipino kids spent most of their were the following: YouTube (26.46%); TikTok (16.75%), Facebook Messenger (16.07%), Roblox (13.67%), Facebook (9.11%). Read more here.
HEAD OF BISHOPS' CONFERENCE URGES FILIPINOS TO CONTINUE FIGHT AGAINST MASS DISINFORMATION
The head of the Catholic Bishops' Conference of the Philippines called on the Filipino faithful not to surrender to the "forces of evil at work in our society." Bishop Pablo Virgilio David of Kalookan made the statement a week after the country's national elections that swept into power the son of former strongman Ferdinand Marcos Sr. Bishop David said "well-funded trolls that are very successful in conditioning minds through mass disinformation in the social media" continue to challenge the country's democratic institutions. Read more here.
DILG WANTS LOCAL GOVERNMENTS TO PASS 'NO CCTV, NO BUSINESS PERMIT' ORDINANCES
The Department of the Interior and Local Government urged cities and municipalities to enact ordinances requiring businesses with a lot customers and those in hazard-prone areas to install closed-circuit television (CCTV) systems. In a statement sent to reporters, DILG Secretary Eduardo Año said that as people return to pre-pandemic practices, public safety must be a priority of LGUs and "CCTVs are applicable technologies that should be utilized to keep criminal activities and their perpetrators at bay." Read more here.
DILG EXEC URGES NEXT ADMIN TO PURSUE CCTV PROJECT FOR PH
The Department of the Interior and Local Government (DILG) said it hoped that the incoming administration will implement a closed-circuit television (CCTV) surveillance system project that was earlier awarded to a Chinese firm but was shelved after security and funding issues were raised. Read more here.
SOME 'E-SABONG' OPERATORS STILL DODGING DUTERTE BAN
At least six websites used for betting on online cockfighting games are still operating despite the ban on "e- sabong" imposed by President Rodrigo Duterte earlier this month, the Philippine National Police reported. Read more here.
DILG TO PNP, LGUS: GO AFTER ILLEGAL 'E-SABONG' OPERATIONS
The Department of the Interior and Local Government (DILG) has ordered the Philippine National Police (PNP) and all local government units (LGUs) to implement a crackdown on the now illegal online cockfighting or "e-sabong" operations. Read more here.
CISCO STUDY FINDS 60% OF PH EMPLOYEES PREFER HYBRID WORK SETUP
Technology company Cisco examined the effects of hybrid working as world economies open up two years into the pandemic. The Cisco study "Employees are ready for hybrid work, are you?" saw that 92% of employees in the Philippines showed a strong preference for having the freedom to work from anywhere, and 60% prefer a hybrid work setup. The figure is higher than the whole of the ASEAN region which saw that 87% of employees prefer hybrid working. Read more here.
BSP, PAYMENTS INDUSTRY GROUP TO LAUNCH 3 E-PAYMENT STREAMS
The Bangko Sentral ng Pilipinas (BSP) and the Philippine Payments Management Inc., (PPMI) said they will launch three e-payment streams as part of a push to broaden the use of digital payments over the next two years. Read more here.
GLOBE SAYS DIGITAL PIVOT WORKING AS NON-TELCO REVENUES UP 252% IN Q1
Globe Telecom said its strategic shift to becoming a digital solutions platform has started to bear fruit, with revenues from non-telco services growing 252% year on year. Globe said total non-telco revenues from its subsidiaries amounted to P791 million for the first three months of 2022, almost three times larger than the same period last year. This marks the first quarter that non-telco services have significantly contributed to Globe's topline. The positive results were driven by growth across most of the company's subsidiaries and affiliates, the Ayala- owned firm said. Read more here.
DICT TO REVIEW EXISTING PROTOCOLS TO EXPEDITE COMMON TOWER BUILD-UP
Department of Information and Communications Technology (DICT) acting secretary Manny Caintic said his agency will review existing protocols to address the concern of Independent Tower Companies (ITCs) that permits are still not being issued fast enough by government instrumentalities. Read more here.
PH URGED TO INTEGRATE CYBERSECURITY IN SMART CITY PLANNING
Urban planners are urged to integrate cybersecurity investments in smart city blueprints to avoid attacks on the operational technology infrastructure of the country's future smart cities, a cybersecurity firm said. Cyfirma president for delivery and operations Saurabh Lal told the Philippine News Agency that it is critical to integrate cybersecurity investments during the planning stage for a smart city, and not after all digital technologies are already in place. Read more here.
ELON MUSK'S STARLINK GETS SWIFT NOD FROM REGULATORS TO DO BUSINESS IN PHILIPPINES
SpaceX, the aerospace company of eccentric billionaire and world's richest man Elon Musk, is now set to do business in the Philippines "in the coming months" after regulators swiftly approved its registration in hopes of changing the country's internet service landscape. In a statement, the National Telecommunications Commission said it expedited the approval of registration of Starlink Internet Services Philippines Inc. as a "value-added service" or VAS. Read more here.
COURSERA LOGS 34% HIGHER NUMBER OF PH LEARNERS
There are 1.5-million registered learners from the Philippines as of 2022, the US-based online learning content provider Coursera said on May 17. Back in January 2020, Coursera saw a surge of 1.1-million new Filipinos registering through its online course platform, posting its highest recorded figure in the entire Southeast Asian region to date. The 34% year-on-year growth played a major in the country's achievement on the highest increase in enrollments of female learners globally to 774% year-over-year. Read more here.
All resources here are linked to the original websites. If any of the resources will be used otherwise, please do credit the source.