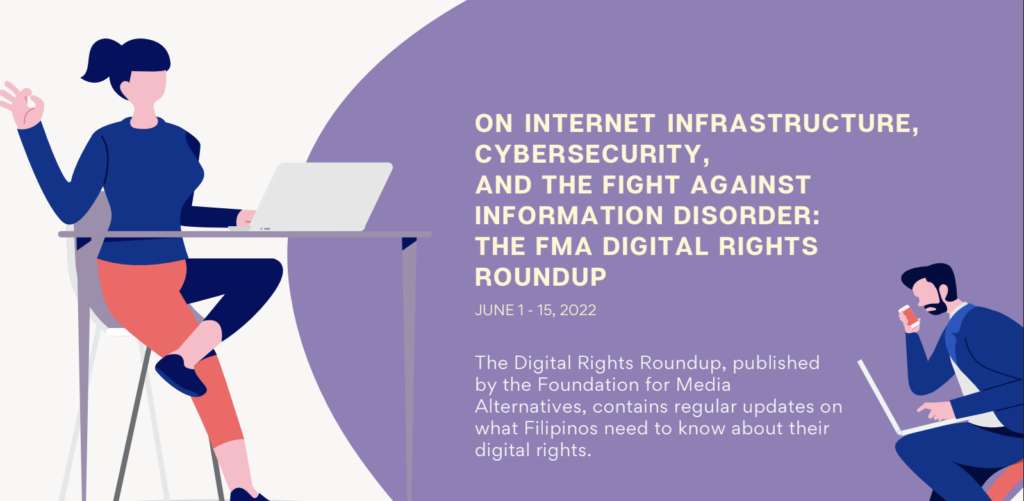 STARLINK SET TO DELIVER BREAKTHROUGH INTERNET SERVICES TO PH SOON
The Department of Information and Communications Technology (DICT) speedily approved SpaceX-Starlink's requirements that will allow the country to enjoy breakthrough internet services through the Low Earth Orbit (LEO) satellite network constellation consisting of over 1,600 satellites. Starlink promises to deliver up to 200 Mbps broadband speeds particularly in "geographically isolated and disadvantaged areas (GIDA)" that are hard to reach with a fiber connection. Read more here.
CONVERGE DOUBLES BASE SPEED TO 100MBPS TO ADDRESS RISE IN INTERNET CONSUMPTION
Fiber internet provider Converge ICT Solutions, Inc. announced on Wednesday that it is doubling its base plan for customers to 100 megabits per second (Mbps) from 50Mbps due to increased internet consumption among Filipino households. Starting June 1, the company will be offering free speed upgrades for all its existing and new FiberX Plan 1500 subscribers — doubling the speed to 100Mbps from 50Mbps. The company said it has laid down over 500,000 kilometers of total fiber assets, expanding its pure fiber network across the Philippines. Read more here.
PH FACING SHORTAGE OF CYBERSECURITY TALENT
In the Philippines and the rest of Asia, the majority of the companies find it challenging to hire cybersecurity talent due to a skills shortage, which can deal a blow to business operations, according to antivirus software developer Fortinet. The shortage is expected to lead to severe cybersecurity consequences for business operations. Read more here.
SMES AND GOVERNMENT AGENCIES GET CYBERSECURITY ASSISTANCE
Secuna, the only crowdsourced cybersecurity testing platform in the country, is offering its community of security researchers to provide free bug bounty and vulnerability disclosure programs to help government agencies and private organizations better their security capabilities. The platform provides a Vulnerability Disclosure Program (VDP), a structured method for third parties, researchers, and ethical hackers to report vulnerabilities easily. The program provides a straightforward method to communicate findings and to show customers and investors that they take security seriously. Read more here.
EMAIL REMAINS TOP CYBERATTACK VECTOR, MORE CYBERSECURITY PROS NEEDED – FORTINET
According to Fortinet manager for systems engineering Nap Castillo, the main cyberattack vector is still the email containing malicious links as well as malicious attachments. Ransomware had an increase of about 11 times over the pandemic compared to pre-pandemic times. The work-from-home setup during the pandemic has only contributed to more potential vulnerabilities. Read more here.
COMELEC WANTS LAWS VS ONLINE TROLLS, REGULATED SOCIAL MEDIA
The Commission on Elections (Comelec) is pushing for laws that will regulate social media and eliminate the use of trolls during the campaign period. Comelec Commissioner George Garcia said, that the Comelec was powerless in addressing online campaign issues because of the absence of a law regulating social media in the Philippines. Read more here.
NEW DICT CHIEF GETS MARCHING ORDERS
"President-elect Bongbong Marcos has very clear marching orders," Information and Communications secretary- designate Ivan John Uy said that among President-elect Ferdinand "Bongbong" Marcos Jr.'s orders is the immediate digitalization of transactions in the Philippines, particularly with the government, and to increase internet speeds and make it more accessible especially in far-flung areas. Read more here.
INCOMING DICT CHIEF IVAN UY TO PRIORITIZE CYBERCRIME PREVENTION
Ivan John Uy, the incoming head of the Department of Information and Communications Technology (DICT) said he would focus on promoting cyber hygiene and on intensifying efforts to prevent cybercrime. Cyber hygiene includes checking computers regularly, installing anti-virus software, using firewalls, changing passwords regularly, and other practices that could prevent cyberattacks. It also involves better cybersecurity practices in homes and businesses and government. Read more here.
PCOO PLAN TO ACCREDIT SOCIAL MEDIA INFLUENCERS QUESTIONED AMID PROLIFERATION OF FAKE NEWS
Incoming press secretary Rose Beatrix "Trixie" Cruz-Angeles said the accreditation of social media influencers for presidential briefings is among the top priorities of the Presidential Communications Operations Office (PCOO). In light of the proliferation of fake news, the incoming chief of the presidential palace's communications team was urged to consult the Malacañang Press Corps (MPC) and other sectors on their plan to include social media influencers in press briefings. Read more here.
MORE PEOPLE ARE AVOIDING THE NEWS, AND TRUSTING IT LESS, REPORT SAYS
A report has concluded that a growing number of people are selectively avoiding important news stories such as the coronavirus pandemic, Russia's invasion of Ukraine, and the cost-of-living crisis. The report in the Philippines surveyed over 2,023 Filipinos, gauging their trust in news. The trust score has gone up to 37% in 2022, however still falls below the global average of 42% and is the fourth lowest among the 11 Asia Pacific markets polled. Read more here.
LOCSIN ON BLOGGERS: 'THERE IS NO JOURNALISM ON SOCIAL MEDIA'
"There is no journalism on social media." said outgoing Foreign Affairs SecretaryTeodoro Locsin Jr. The retired journalist stated that traditional platforms are still the best source for news. Locsin's comments came after plans were announced by the next administration to grant bloggers media access to Malacañang, a privilege that used to belong only to conventional media members. Read more here.
LOCAL DISINFORMATION MOSTLY LEFT UNCHECKED, SAYS CAGAYAN DE ORO POLLS WATCHDOG
at the local levels were left mostly unchecked in the city and Misamis Oriental in the just-held elections, but it was worse compared to the web of lies spread using communications technology in the presidential race. "It was largely unchecked in the local levels but it was overwhelming in the race for the presidency," said Netnet Camomot, a core member of the group. Read more here.
CYBERCRIME CASES RISE, BRING P360B IN LOSSES WORLDWIDE—FBI
Since 2021, countries across the world experienced an unprecedented increase in cyber-attacks and malicious activity, according to data from the US Federal Bureau of Investigation's Internet Crime Report 2021 released last week. The report also highlighted one of the biggest global impacts of cybercrime. According to the FBI, aside from the increasing reports in cases of cybercrime, losses as a result of cybercrime likewise significantly rose last year. Read more here.
BSP INTENSIFIES EFFORTS TO 'CURB' CYBERCRIMES
The Bangko Sentral ng Pilipinas (BSP) is further strengthening its cyber crime-fighting policies and calling on the private sector to also increase vigilance against money laundering and terrorist-financing activities such as illegal online gambling. The BSP is also reminding all supervised financial institutions or BSFIs to follow strict due diligence requirements and monitoring of clients' accounts and transactions, as well as the reporting of suspicious transactions. Read more here.
POE SEEKS TO REFILE SIM CARD REGISTRATION BILL
Senator Grace Poe said she will refile the proposed SIM card registration bill in the 19th Congress to fight scam text messages. The senator said that without the bill, Filipinos become "vulnerable to fraudulent transactions that place their sensitive data such as bank accounts, passwords, profiles, among other information, at risk." In April, however, President Rodrigo Duterte vetoed the measure calling for the mandatory registration of SIM cards of mobile phone users. Read more here.
PH ARMY BOOSTS CYBER DEFENSE WITH USARPAC AID
The Philippine Army (PA) is beefing up its cybersecurity and defensive capabilities in a five-day Subject Matter Expert Exchange (SMEE) with its counterpart at the US Army in the Pacific (USARPAC). SMEE will be conducted through lectures, demonstration of various cybertools, as well as hands-on practical exercises . Read more here.
PA'NO NANALO SI BBM?: ANG 2022 RENDITION NG BAGONG LIPUNAN
In the first episode of "Pa'no nanalo si BBM?: Let us count the ways" podcast series, Manolo Quezon III, a historian and political analyst, unpacks the campaign of Bong Bong Marcos. The podcast episode mainly talks about campaign music and local election race. Listen to more here.
IGLESIA NI CRISTO'S NET25 SPREADS HATE WITH VLOGGER-STYLE 'REPORTING'
NET25, the TV station of Eagle Broadcasting Corporation owned by the Iglesia ni Cristo (INC), called Robredo's daughters "celebrity wannabes" for their social media posts that chronicled their trips and shared memories with their friends and followers. This is not the first time the network used its platforms to attack others. An analysis of the content NET25 shared on its official Facebook account showed that the network has repeatedly spread false information and attacked critics. Read more here.
ARCHIVISTS RUSH TO PRESERVE RECORDS OF ATROCITIES UNDER FERDINAND MARCOS SR
In the weeks after the election result, many have rushed to protect the country's past. Shops have sold out of history books that depict the plunder and abuses that occurred during the Marcos era, while 1,700 academics have signed a manifesto promising to protect the truth and academic freedom. Marcos Jr has never apologised for abuses or corruption under his father, and has instead downplayed past atrocities. Read more here.
ARE WE LOSING THE DISINFORMATION WAR? – FACTS FIRST LIVE
The Philippines has been identified "patient zero" in the war against disinformation. Journalist Christian Esguerra and Greg Kehailia, chief of party of the Initiative for Media Freedom and Internews country director in the Philippines, have a comprehensive discussion of the problem and concrete solutions. Watch here.
JOURNALISTS AND FACT-CHECKERS CONTINUE TO COME UNDER ATTACK – DNR 2022
Journalists and fact-checkers alike continue to come under attack, a grim reality further highlighted when Rappler CEO Maria Ressa, who faces at least seven lawsuits, was conferred the Nobel Peace Prize for Journalism in December 2021. Ahead of the elections, Marcos barred professional journalists from covering his campaign events, snubbed media-hosted debates, and gave preferential treatment to friendly social media influencers and a partisan TV station that repeatedly lambasted mainstream media. Read more here.
PLDT ENTERPRISE CALLS FOR CYBERSECURITY READINESS IN PH COMPANIES
PLDT Enterprise, the B2B arm of the country's largest fully integrated telecommunications provider PLDT, highlighted the significance of cybersecurity readiness amid the dramatic rise of cyberattacks to businesses over the past year. Read more here.
All resources here are linked to the original websites. If any of the resources will be used otherwise, please do credit the source.