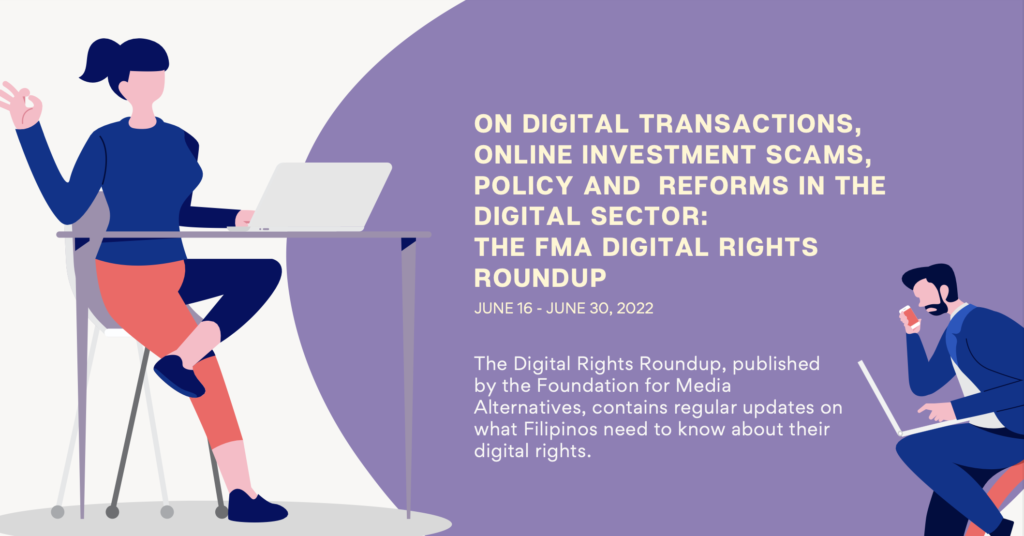 SC: PHOTOS, MESSAGES FROM FB MESSENGER ADMISSIBLE AS EVIDENCE
The Supreme Court (SC) has ruled that photos and messages obtained by private individuals from a Facebook messenger account are admissible as evidence in court. The ruling was based on a 31-page decision by Justice Jhosep Y. Lopez after the conviction of Christian C. Cadajas, for violation of the Anti-Child Pornography Act, rejecting his claim that the chat thread used against him was a violation to right to privacy. Read more here.
DUTERTE RATIFIES UN TREATY ON USE OF ELECTRONIC CONTRACTS
Pres. Rodrigo Duterte recently signed the instrument of ratification of the United Nations Convention on the Use of Electronic Communications in International Contracts (UNECC) According to DTI secretary Ramil Lopez, the ratification of this treaty is important because it sends a strong signal to the Philippines' readiness to adopt a modern legal regime for international electronic contracts. Read more here.
CHR LAUDS DOJ CHIEF'S REMARKS VS RED-TAGGING
Jacqueline de Guia, executive director of the CHR, welcomed the opposition of outgoing Department of Justice (DOJ) Secretary Menardo Guevarra to the red-tagging by certain officials, especially those from the government's anti-communist task force. Read more here.
SEC HUNTS DOWN DECENTRA INVESTMENT SCAM
The Securities and Exchange Commission (SEC) has taken down another investment scam promising fast and guaranteed returns from cryptocurrencies in an entrapment operation that resulted in the arrest of 19 individuals. The SEC warns the public to exercise self-restraint from investing their hard-earned money in such high-yield, high-risk investment scheme Read more here.
POE TO REFILE SIM CARD REGISTRATION BILL TO 'STOP TEXT SCAMS'
Sen. Grace Poe said she will refile her original bill on SIM card registration in the 19th Congress to thwart the text scams that are still being sent to mobile users. The bill was vetoed last April by Pres. Rodrigo Duterte said a provision on the inclusion of social media companies in the registration requirement was a last-minute insertion. Civil society groups also opposed the bill, noting that it poses a grave threat to the individual rights to privacy and free expression. Read more here.
PH, 'PATIENT ZERO' IN FAKE NEWS EPIDEMIC, CAN LEARN FROM FINLAND
In 2018, Finland made it to the top spot in a study measuring 35 countries and their resilience to the post-truth phenomenon. The Nordic country has successfully fought against disinformation by taking a multi-sectoral approach. Its war on fake news has been so successful that it has become the example, with other countries wanting to copy its blueprint as they wage their own battles. Read more here.
CYBERCRIME CENTER BOOSTS FIGHT VS. ONLINE CHILD ABUSE
In 2021, there were 3,188,793 cyber tip line reports made by the National Center for Missing and Exploited Children (NCMEC) in the Philippines — an increase of 138.041 percent compared to 1,339,597 cyber tip line reports in 2020. The Cybercrime Investigation and Coordinating Center (CICC) has launched the country's first and state-of-the-art Digital Forensics Platform and Laboratory (DFPAL) to help the country's fight against online sexual abuse and exploitation of children (OSAEC). Read more here.
SATELLITE INTERNET POISED FOR BIG BANG OF GROWTH IN SOUTHEAST ASIA
Satellite-based internet offers clear advantages in a region with numerous islands. The Philippines is comprised of over 7,100 islands, while Indonesia has over 16,000. Many remote islands and areas outside big cities lack sufficient internet access, and satellites offer an easier way to connect these areas compared with laying undersea cables. Read more here.
ONLINE SHOPPING SITES URGED TO GIVE ONLINE DISCOUNT TO SENIOR CITIZENS, PWDS
The Department of Trade and Industry (DTI) has called on e-commerce platforms to honor the privileges granted to senior citizens and persons with disabilities (PWD) by adopting the guidelines issued by the government and improving their existing system to ensure that the mandatory discounts are given whenever they purchase goods or services, whether in online, telephone, or mobile transactions. Read more here.
LOCAL IT-BPM SECTOR POSTS $29.49-B IN REVENUES, 120,000 NEW JOBS IN 2021
The IT and Business Process Management (IT-BPM) industry reinforced its role as a major pillar of the country's economy as it continued to contribute new jobs and export gains even as Covid-19 crippled other sectors. According to the IT and Business Process Association of the Philippines (IBPAP), the number of full-time employees (FTEs) in the country increased by 120,000 in 2021, bringing the sector's total headcount to 1.44 million and registering a growth of 9.1% compared to 2020. Read more here.
SEC ADDS GCASH AS PAYMENT OPTION AS ONLINE PAYMENTS SOAR
The Securities and Exchange Commission (SEC) has added GCash for its online payment system to allow clients to settle registration and other transaction fees, as well as penalties, through the Electronic System for Payments to the SEC (eSPAYSEC). To use GCash for their payments, clients only need to enter the reference number provided in the Payment Assessment Form issued by the SEC, Other online payment channels that are accepted by eSPAYSEC include debit and credit cards powered by Visa, Mastercard and JCB, as well as PayMaya wallets. Read more here.
SEC-CEBU WARNS PUBLIC AGAINST INVESTMENT SCAMS
The Securities and Exchange Commission (SEC)- Cebu Extension Office has warned the public against unauthorized investments brokered by individuals and entities operating without license and permits. SEC Cebu has issued a letter containing the names of unregistered investment entities. The Enforcement and Investor Protection Department of the SEC said the investor alerts they issued are prompted by the numerous reports regarding the illegal operations of these entities. Read more here.
NPC TO CREATE 'STRONG CULTURE OF PRIVACY' IN PH
The National Privacy Commission (NPC) has pledged to continue protecting the Filipino people's data privacy rights and its awareness campaign on the Data Privacy Act of 2012 (DPA). In a statement on Friday, NPC Commissioner John Henry Naga said the NPC is eyeing to continue equipping Filipinos with knowledge on data privacy, security, and protection. Read more here.
PHILIPPINE GOVERNMENT LAUNCHED BLOCKCHAIN TRAINING PROGRAM
The Philippines' science and technology department recently launched a blockchain training program. It recognizes the significance of this growing technology that could benefit the country. Crypto adoption is spreading worldwide, so other nations may follow soon. The Philippines sees this as an opportunity to grow and improve. The news came from the Executive Director Philippine Council for Industry, Energy, and Emerging Technology Research and Development (DOST-PCIEERD). Read more here.
CONGRESS URGED TO PASS LAW ALLOWING ROLLING SITE BLOCKING VS PIRACY
The Intellectual Property Office of the Philippines (IPOPHL) and consumer advocacy network CitizenWatch Philippines, have called on Congress to allow the government agency to block multiple websites being used for intellectual property piracy, or rolling site blocking. Rolling site blocking, according to IPOPHL, is an anti-piracy mechanism that constantly monitors and blocks multiple sites set up by the same violator. Read more here.
STRONGER COMMON TOWER POLICY URGED
Speakers at the Manila Times forum urged that the new administration must push for a common tower policy that will allow businesses and entities to boost productivity and consumer service. Speaking at the forum titled "Connectivity Resiliency For The Country's Productivity," Department of Information and Communications Technology (DICT) Undersecretary for Digital Philippines Maria Victoria Castro presented the agency's plans to improve the country's digital economy. Read more here.
CAINTIC MEETS WITH INCOMING DICT CHIEF UY FOR TRANSITION PLANNING
Ivan John E. Uy, the incoming chief of the Department of Information and Communications Technology (DICT), met with acting secretary Manny Caintic to discuss the country's digital agenda plans and programs during the transition planning. Caintic, along with other current officials, has prepared the transition report for submission to the Office of the President as well as to the incoming administration. Read more here.

HONTIVEROS ASKS INCOMING ECON MANAGERS TO RESOLVE IMPASSE ON WFH SET-UP

Sen. Risa Hontiveros has called on the country's incoming economic managers to remove the uncertainty and finally resolve the work-from-home (WFH) impasse in the information technology-business process management (IT-BPM) sector. To date, there's no final decision yet on whether to allow business process outsourcing (BPO) andregistered business enterprises (RBEs) to continue their WFH setup indefinitely. Read more here.

FOLLOWERS, ENGAGEMENTS EYED AS METRIC IN ACCREDITING BLOGGERS: ANGELES

Incoming PCOO chief Trixie Cruz-Angeles said they are currently reviewing Malacañang's blogger accreditation policy, which was put in place under the term of President Rodrigo Duterte. Bloggers played a huge role during Marcos Jr's presidential campaign, with some given priority access during UniTeam sorties. High engagement and scores of followers may be used as basis to allow a blogger to cover Malacañang Palace. Read more here.

TIEZA EXPANDS DIGITAL CHANNELS FOR PAYING TRAVEL TAXES ONLINE

The Tourism Infrastructure and Enterprise Zone Authority (TIEZA), the government agency in charge of collecting travel taxes, has tapped local tech firm MyEG Philippines to expand the payment options for its Online Travel Tax Services System (OTTSS). Through this partnership with MyEG Philippines, Filipinos will now have multiple options to pay for travel tax online using their e-wallets (GCash, Maya, ShopeePay, and GrabPay) Read more here.

PH BACKS EXTENSION OF MORATORIUM ON CUSTOM DUTIES FOR E-COMMERCE TRANSACTIONS

Recognizing the importance of e-commerce in facilitating cross-border trade in goods and services, the Philippines during the 12th WTO Ministerial Conference in Geneva, Switzerland expressed its support for the extension of the moratorium on the imposition of customs duties on electronic transmissions until the next Ministerial Conference. The Philippines also stressed the need to advance the work under the Electronic Commerce Work Program and highlighted the vital role of electronic commerce in the global post-pandemic recovery. Read more here.

UNIONBANK LOOKING TO LAUNCH DIGITAL LENDER BY NEXT MONTH
UNIONBANK of the Philippines, Inc. targets to launch its digital bank in July. Digital banks are expected to help the central bank reach its goal to bring 70% of Filipino adults into the banked population and have 50% of payments done online by 2023. Read more here.
MORE LEGISLATIVE REFORMS TO BOOST INTERNET SERVICES IN PH: PCCI
The Philippine Chamber of Commerce and Industry (PCCI) has reiterated its call for better internet services in the country by passing more legislative reforms. Legislative measures such as the Open Access in Data Transmission Act, Rural Wired Connectivity Development Act, and Better Internet Act can facilitate the improvement of better internet connection in the country. Read more here.
DOST E-LIBRARY TO BE AVAILABLE IN RURAL AREAS VIA DATACASTING
The digital library Science and Technology Academic and Research-Based Openly Operated Kiosk Station (STARBOOKS) of the Department of Science and Technology (DOST) will soon be available via datacasting. The project provides STI (Science, Technology, and Innovation)-based content in various formats to students and other constituents in geographically isolated and economically challenged schools and communities nationwide. Read more here.
DOST WARNS VS. DUBIOUS SOCIAL MEDIA ACCOUNTS, SCHOLARSHIP INFO
The Department of Science and Technology – Science Education Institute (DOST-SEI) warned the public against "suspicious" social media accounts, misleading information on its scholarship programs, as well as fake job offerings. These suspicious accounts bear SEI's name, logo, or its flagship scholarship program. Read more here.
SEC ISSUES REVOCATION ORDER VS RAPPLER IN LAST 2 DAYS OF DUTERTE PRESIDENCY
In the last two days of President Rodrigo Duterte, the Securities and Exchange Commission (SEC) issued an order affirming one more time its decision to revoke the certificates of incorporation of Rappler. The revocation comes after a four-year legal battle with the Securities and Exchange Commission (SEC) about the publication's alleged violation of the constitution. Read more here.
All resources here are linked to the original websites. If any of the resources will be used otherwise, please do credit the source.