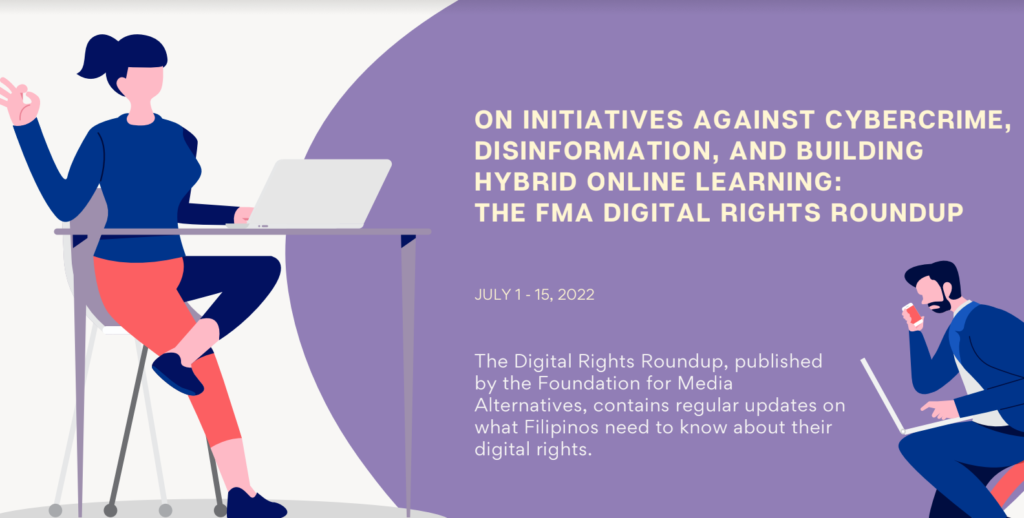 FAKE JOB TEXT SCAMS LIKELY TO PERSIST AS JOBLESSNESS WORSENS
Rising indices of Cybercriminals using text messages to trick mobile phone users into visiting malicious websites to obtain their personal information, including banking information, credit cards, and addresses. Authorities have attributed the cause of these incidents to rising unemployment. According to the Philippine Statistics Authority (PSA), the unemployment rate in the country jumped to a three-month high in May. Many of the job offers made by fraudsters pose as being from giant tech companies like Amazon. Telecom companies like Globe Telecom, Inc. have blocked over 138 million spam and scam messages from January to June 15 this year. Read more here.
THREE YEARS 'ENOUGH' FOR TELCOS TO COVER ALL AREAS
"Three years is enough. For us in DITO, covering the underserved is already part of our government commitments," said DITO Chief Administrative Officer Adel A. A three-year period is enough for fixed and mobile internet service providers to cover all unserved and underserved areas in the Philippines, according to DITO Telecommunity Corp., agreeing with measures to improve internet service and access across the country. Read more here.
KASPERKY WARNS PUBLIC AGAINST 'VOICE PHISHING' USING TIKTOK PRANK
Vishing is the fraudulent practice of convincing individuals to call cybercriminals and reveal personal information and bank details over the phone. A trend in TikTok of bloggers pranking other people by calling them and telling them that their account is about to be debited thousands of dollars. Victims are now lured into disclosing their band details. Read more here.
AFTER BLOCKING SIMS, PLDT-SMART TAKES DOWN 650 DOMAINS TIED TO TEXT SCAMS
From June 10 to 28, 2022, PLDT-Smart said its Cybersecurity Operations Group (CSOG) has blocked more than a hundred URLs and domains tied to text scams, bringing the total links blocked to 650 in the first half of 2022. 'Smishing' is a form of phishing done through text messages that trick people into disclosing bank details and personal information. Read more here.
WITH RISE OF 'GHOST PIRACY' IN SE ASIA, BSA OPENS HOTLINE FOR SOFTWARE LICENSE COMPLIANCE
"Ghost piracy" happens when professionals working from home are illegally accessing illegal software at their offices while working remotely on engineering, construction, and animation design projects. Software maker group BSA announced on Thursday, July 14, the launch of helplines across Southeast Asia to help businesses cope with challenges related to software copyright compliance. Read more here.
RANSOMWARE ATTACKS ON SCHOOLS INCREASING, SURVEY SHOWS
Education institutions faced the highest data encryption rate (73%) compared to other sectors (65%), and the longest recovery time, with 7% taking at least three months to recover – almost double the average time for other sectors (4%) A new report from cybersecurity firm Sophos has revealed that education institutions – both higher and lower education – are increasingly being hit with ransomware. Read more here.
EDTECH FIRM CALLS FOR INCREASED ADOPTION OF DIGITAL LEARNING IN PH
Various institutions and companies have emphasized the evolving need for digital learning technology amid the announcement of the Department of Education in adding in-person classes to blended learning setups. Many have recognized the potential of embracing hybrid and flexible online modalities. Read more here.
SC: IN LINE WITH DIGITAL SHIFT, BAR EXAMS MAY BE COMPUTERIZED PERMANENTLY
Amid the Covid-19 pandemic, the 2020-2021 Bar examinations were held last February in a "digitized, localized, and proctored" modality — a first in the country's history. Supreme Court associate justice Ramon Paul L. Hernando, chairperson of the 2023 Bar Examinations and chairperson of the Court's Committee on Bar Reforms disclosed that there are ongoing discussions about the possible revision of Rule 138 of the Rules of Court which governs the practice of law and provides the procedures for admission to the Bar. Read more here.
PINOY STARTUP UNVEILS ONLINE TOOL TO HELP SMES FIND GOV'T CONTRACTS
Local financial technology startup First Circle launched on Thursday, July 7, an online tool called "Project Finder" to help more Philippine small-to-medium enterprises (SMEs) get started on government supplying. Many SMEs, are hindered from B2G (business-to-government) transactions due to several factors. Most are unaware of PhilGEPS or the process of government supplying. Others do not have the time to explore PhilGEPS contracts regularly. Read more here.
PH GOV'T URGED TO BOOST CYBER-RESILIENCY TO SUPPORT DIGITAL ECONOMY
A new study from e-security firm Kaspersky is urging the Philippines to take a more active stance in prioritizing cybersecurity against the backdrop of constantly evolving cyber threats. Achieving cyber-resiliency will support the growth of local businesses and mitigate dangerous risks to the country's economy. Read more here.
POE REFILES BILL REQUIRING ISPS TO SET MINIMUM INTERNET CONNECTION SPEED
Under the bill dubbed "Better Internet Act", the National Telecommunications Commission (NTC) shall require all telcos and ISPs to extend and expand the service coverage of fixed and mobile Internet service in all unserved and underserved areas within three years from the effectiveness of the measure. Telcos and ISPs are also strongly encouraged to provide a higher Internet speed and deliver a minimum standard for connection speed to their subscribers. Read more here.
LEGARDA PUSHES FOR 'ONE TABLET, ONE STUDENT' BILL
The bill seeks to give each elementary and secondary level student in public schools, as well as those enrolled in State Universities and Colleges (SUCs), a tablet to help them adapt to the online learning system being implemented by the Department of Education (DepEd) since early 2020 because of the current health crisis. The four-term senator stressed that those students who already have their learning gadgets should instead be provided with internet allowance to cover the cost of connectivity. Read more here.
PINOY BUSINESS EXECS SEE HYBRID MODEL AS FUTURE OF WORK
The work-life balance afforded by flexible work is a serious consideration for today's employees. Local business leaders concluded that hybrid work will be here to stay as changing workforce priorities have upended the old work model. However, flexible working environments are not a one-size-fits-all solution. Hybrid set-ups must be customized to fit an organization's needs. Read more here.
Under a memorandum of agreement with the Philippine Statistics Authority (PSA), which manages the Philippine Identification System (PhilSys) database, Bangko Sentral ng Pilipinas (BSP) was mandated to produce and deliver 116 million pre-personalized IDs from 2021 to 2023. However, The BSP has been experiencing delays due to "pandemic restrictions, technical issues, the lack of personnel to operate card personalization machines, and the limited supply of machine spare parts." Read more here.
FACEBOOK-OWNER META RELEASES FIRST HUMAN RIGHTS REPORT
Facebook owner Meta released its first annual human rights report on Thursday, following years of accusations that it turned a blind eye to online abuses that fueled real-world violence in places like India. In response, Meta commissioned a report with a law firm in India to look into such issues. In its summary, Meta said the law firm had noted the potential for "salient human rights risks" involving Meta's platforms, including "advocacy of hatred that incites hostility, discrimination, or violence." Read more here.
PULSE ASIA: MOST FILIPINOS FIND 2022 ELECTIONS 'CREDIBLE'
A recent Pulse Asia survey shows most Filipinos believe the May 9 elections were either 'more credible now' or 'as credible as before.' Only 8% of the 1,200 respondents said the past elections were either less credible or not as credible as six years ago, while the remaining 7% were undecided. Over a thousand vote-counting machines (VCMs) broke down on election day, marring the voting experience of ten of thousands of voters, and casting doubts on the credibility of the automated election system (AES). Read more here.
AFTER DISINFO'S IMPACT ON ELECTIONS, TRUTH TELLERS NEED TO COLLABORATE MORE
In the wake of a national election that was heavily impacted by the use of social media and disinformation, forming collaborations among truth-telling sectors and organizations is of utmost importance. There is a feed for more collaboration since there is a "whole ecosystem" within the digital networks that no longer listen to mainstream news organizations. She said that, to a certain degree, mainstream media had been sidelined. Read more here.
PHILIPPINES: UN EXPERT SLAMS COURT DECISION UPHOLDING CRIMINAL CONVICTION OF MARIA RESSA AND SHUTDOWN OF MEDIA OUTLETS
The UN Special Rapporteur on freedom of opinion and expression Irene Khan today condemned the Philippines Court of Appeal decision to uphold the 2020 'cyber libel' conviction of Nobel Peace Prize-winning journalist Maria Ressa. Separately, on 8 June, the Philippine National Telecommunications Commission ordered to restrict access to local news websites Bulatlat and Pinoy Weekly for allegedly violating anti-terrorism laws. Read more here.
VLOGGER SANGKAY JANJAN TAKES DOWN 167 VIDEOS FOLLOWING RAPPLER INVESTIGATION
Vlogger Sangkay Janjan took down 167 of his YouTube videos, some of which violate the tech platform's policies on harassment and COVID-19 disinformation. This came after a Rappler investigation that reviewed Sangkay Janjan's videos from December 2, 2017, to June 14, 2022. The investigation identified the common themes and conspiracy theories amplified in his vlogs, as well as the frequent targets of his attacks. Read more here.
TIKTOK DIGITAL LITERACY HUB: A GUIDE TO ONLINE SAFETY
TikTok, the leading short-form video platform, continued its fight against harmful misinformation with a livestream titled TikTok Digital Literacy Hub: A Guide to Online Safety. TikTok's Digital Literacy Hub provides tools that will help users to identify and report inappropriate materials, platforms that spread false information, and fake news. Read more here.
WHY POSSIBLE LOSS OF CROWDTANGLE WORRIES FACT-CHECKERS AND DISINFORMATION RESEARCHERS
In conducting its research, Science Feedback used a number of tools for gathering data. One of these is CrowdTangle, a public insights tool owned by Meta that makes it easy to follow, analyze, and report on what's happening with public content on social media. Acquired by Facebook's parent company in 2016, CrowdTangle has been used by newsrooms to monitor and compare the performance of public assets and content on Facebook, Instagram. The company has recently clamped down access to such tools. Read more here.
TESDA EYES CRAFTING CYBERSECURITY COURSE
In its bid to combat the growing threat of cybercrimes, the Technical Education and Skills Development Authority (TESDA) said they are currently looking at developing a cybersecurity training program, in partnership with other countries. tudents also need to learn, for instance, phishing attacks where the hacker tries to fool victims to click a compromised link. While there are technical ways to prevent phishing, this can be better prevented if one is aware of cybersecurity. Read more here.
SENATORS REFILE SIM CARD REGISTRATION BILL
Several senators have refiled the SIM Card Registration Act previously vetoed by former President Rodrigo R. Duterte due to its social media provision, which he said "needs a more thorough study." Senator Mary Grace S. Poe-Llamanzares, the primary sponsor of the bill in the last Congress, refiled the bicameral copy of the bill ahead of the 19th Congress' opening on June 25. Read more here.
ROMUALDEZ REFILES SIM CARD REGISTRATION BILL AT HOUSE
Rep. Martin Romualdez (Leyte), President Ferdinand Marcos Jr.'s cousin and who is seen as the likely next speaker of the House, has filed a bill seeking to require the registration of Subscriber Identity Module cards to help prevent crimes done through mobile phones. The bill, which raised privacy concerns during the 18th Congress, also lists Rep. Ferdinand Alexander Marcos (Ilocos Norte), and Reps. Yedda Marie Romualdez and Jude Acidre (Tingog party-list) as authors. Read more here.
IMPROVE, EXPAND DIGITAL INFRA IN PH, GROUP URGES BONGBONG MARCOS
Amid the growing economic disparities brought about by the pandemic, many advocacy groups have called for an overhaul of infrastructure that supports our digital economy. Consumer rights group CitizenWatch Philippines called on the new administration of President Ferdinand Marcos Jr. to "take concrete steps" and focus on digital infrastructure in the country, which it said could also enable more Filipinos to partake in the digital economy. Read more here.
KASPERSKY: PHILIPPINES RANKED 4TH WORLDWIDE WITH MOST NUMBER OF WEB THREATS
In a global ranking where the lower a number means bigger problems for a country, the Philippines ranked 4th with the most number of web threats ranging from web attacks, remote desktop protocol (RDP) attacks, and mobile malware in 2021 according to Kaspersky. Read more here.
All resources here are linked to the original websites. If any of the resources will be used otherwise, please do credit the source.