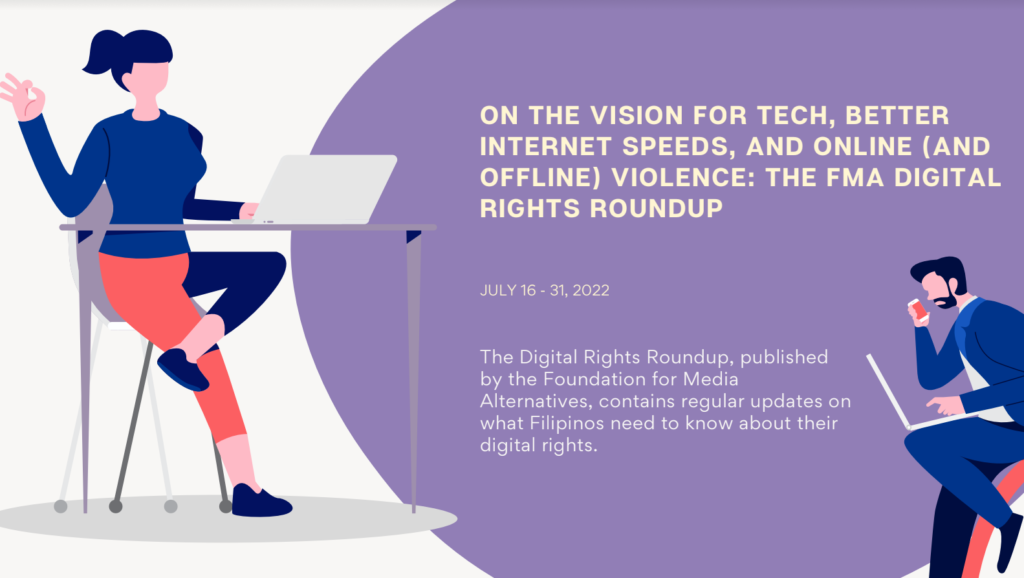 DIGITAL SERVICES TAX, DIGITAL GOV'T SERVICES: TECH PRIORITIES FROM SONA 2022
President Ferdinand Marcos Jr. on Monday, July 25, addressed Congress in his first State of the Nation Address (SONA), with some points of his 74-minute speech touching on technology-related issues. President Marcos Jr.'s 19 priority bills include the E-Government Act, E-Governance Law, and the Internet Transactions Act. Read more here.

BONGBONG MARCOS VISION: A DIGITAL PHILIPPINES
Under the leadership of Department of Information and Communications Technology (DICT) Secretary Ivan John Uy, the DICT has promised to provide Filipinos with the digital tools to help the economy recover and make the Philippines more competitive. "We see that there are so many things that are in store for us in this current administration. Our digitalization efforts will be pushing through with more vitality, with more energy, and we have a president who is digitally in-tuned with what is really needed in terms of information and communication technology to make the country really move forward," Uy said in an interview. He said the marching order of President Marcos Jr. to the DICT is this: "We need to digitalize the Philippines." Read more here.

ATENEO SHOOTING SUSPECT CHAO TIAO YUMOL SPEWS RAGE AND HATE ONLINE
The lone suspect in the killing of three people inside the Ateneo de Manila University in Quezon City on Sunday, July 24, is a 38-year-old doctor from Lamitan City in the province of Basilan who supports vigilante justice, spreads hate against Rodrigo Duterte's critics, and rages against the Furigay clan of Lamitan. The shooter's online persona shows a man who supports Rodrigo Duterte's brand of vigilante justice. Some pro-Duterte netizens now come to his rescue. Read more here.

WHAT FACEBOOK AND YOUTUBE POLICIES COULD BE AT PLAY AFTER ATENEO SHOOTING?
While the killings have been widely condemned, including statements from the President and Vice President, the suspect has also received online praise and support for his actions primarily from pro administration accounts, leading to considerable engagement. In shooting incidents, what policies do platforms like Facebook and YouTube have? Read more here.
IN AFTERMATH OF ATENEO SHOOTING, SYMPATHIZERS DEFEND GUNMAN ONLINE
The analysis showed that over half of the posts mentioning Yumol on Facebook support or sympathize with him (56.6%), and almost half of the videos on YouTube mentioning him (45.4%) are supportive. Fatima Gaw, an assistant professor at the University of the Philippines who has also done extensive research on online disinformation networks, said that this online behavior is troubling. Read more here.
HONTIVEROS EYES STRENGTHENING ANTI-CYBERCRIME LAW
Senator Risa Hontiveros on Wednesday said she will study the possibility of proposing amendments to the Anti-Cybercrime Law to prevent the online abuse against children amid the fast evolution of technology around the globe. The lawmaker raised this in a press conference when she was asked about the gaps in the current laws which allow perpetrators to continue these abuses. Read more here.
YOUTUBER ENCOURAGING CHILD SEX ABUSE CONTINUES TO EVADE AUTHORITIES – PNP
YouTuber flagged for encouraging grooming minors continues to evade the authorities' operations, the Philippine National Police (PNP) Anti-cybercrime Group (ACG) said on July 21. Police Lieutenant Michelle Sabino, spokesperson of the PNP ACG, told Rappler that even before YouTuber "Usapang Diskarte became viral, they were already monitoring his channel. However, before the police unit was able to engage the predator, his channel was already turned down. Read more here.
MAINTAINING THE STANDARD OF QUALITY TELECOMMUNICATIONS IN THE PHILIPPINES
In the Philippines, the National Telecommunications Commission (NTC) supervises all telecommunication services, including radio stations, telephone systems, cable companies, satellite television providers, and internet services. Recently, the regulatory agency shifted its attention to protecting national security and interest. It ordered internet service providers to block several websites, including independent media "found to be affiliated to and are supporting terrorist and terrorist organizations." Read more here.
LAWMAKERS URGED TO PROMPTLY REFILE, PASS SIM CARD BILL
An advocacy group championing the interests of ordinary consumers is urging members of the 19th Congress to file and pass again the bill requiring SIM registration that had been vetoed by former President Rodrigo Duterte. Tim Abejo, co-convenor of CitizenWatch Philippines cited the bills immense power to protect Filipinos from scams and other internet-related crimes. Read more here.
FILIPINO-FOUNDED FIRM DEVELOPING TEST TO DETECT OVARIAN CANCER WITH A DROP OF BLOOD
Filipino-founded biotech firm InterVenn Biosciences on Friday, July 22, launched its Philippine office. Though the company is headquartered in San Francisco, California, the team that developed and maintains the proprietary AI technology that speeds up certain research processes for the company is made up mostly of Filipinos residing in the Philippines, including one of its founders, AI and blockchain expert Aldo Carrascoso. The company has about 150 Filipinos working in the Philippines, majority of whom are software developers, and who make up half of the company. Read more here.
MARCOS SEES ISSUANCE OF 92M NAT'L IDS BY MID-2023
President Ferdinand "Bongbong" Marcos Jr. on Monday ordered the issuance of 30 million physical cards and 20 million digital IDs of the Philippine Identification System (PhilSys), with the ultimate goal of issuing 92 million by the middle of next year. In his first State of the Nation Address (SONA), Marcos said the target is to "accomplish the issuance of about 92 million IDs" by mid-2023, as this would enable Filipinos to "seamlessly transact with the government." Marcos also pushed for the digitalization of all government records. Read more here.
DECRIMINALIZE LIBEL: PH JUNKED ONE-THIRD OF CYBER LIBEL CASES FILED SINCE 2012
Ever since the law covering criminal cyber libel was passed in 2012, Philippine authorities have junked about one-third or 1,131 cyber libel cases out of the total libel cases filed. Data obtained by Rappler from the Department of Justice Office of Cybercrime (DOJ-OOC) through a Freedom of Information (FOI) request show that as of May 2022, there have been 12 convictions for cyber libel, while there have been four acquittals. Read more here.
POSTS MISLEAD ON MEDIA COVERAGE OF REVOLUTION THAT OUSTED LATE PHILIPPINE DICTATOR
Old footage of the late Philippine dictator Ferdinand Marcos appearing to instruct the military not to shoot protesters calling for him to step down has been viewed millions of times online alongside a claim it was never broadcast by the media. However, multiple media reports since the "People Power" revolution that toppled Marcos in 1986 have featured the clip or have referenced the event it shows. Historians told AFP the clip had been shared in a misleading context, as historical accounts indicate military units received but subsequently refused orders to attack the camp where protesters were gathered." Read more here.
OLD FACEBOOK POST FALSELY RESHARED ONLINE AS 'PHILIPPINE VP'S ADVICE FOR TEACHERS'
Facebook posts shared hundreds of times in the Philippines purport to contain advice for public school teachers from Philippine Vice President Sara Duterte on how to handle inadequate classroom resources. The daughter of former Philippine president Rodrigo Duterte became head of the archipelago's education department after she was sworn in last month. But AFP found identical advice in Tagalog language was shared by a Filipino Facebook user six years before Duterte's appointment as education chief. The original post was also edited to insert an image of Duterte standing at a pulpit at an event in early July 2022, during which she made no such comments. Read more here.
HIGHLIGHTS: RAPPLER+ BRIEFING ON THE SOCIAL MEDIA LANDSCAPE IN THE 2022 PHILIPPINE ELECTIONS
How did candidates use social media during their campaigns? Who was targeted by coordinated networks online? What does this mean for the future of governance and citizens' participation? Gemma B. Mendoza, Rappler's lead researcher on disinformation and platforms, presented a study that shed light on the kinds of narratives seeded in time for the elections. The study presented was based on over two million Facebook, Twitter, and TikTok posts gathered and analyzed. The number of posts gathered was higher than usual because there was generally more activity on social media during the election season. Read more here.
THE PHILIPPINES HAS TO TAKE INFLUENCERS' ROLE IN SPREADING (MIS)INFORMATION MORE SERIOUSLY
Conversations about disinformation and misinformation in the Philippines are often dominated by the mentions of President Rodrigo Duterte, the Marcos family, and their respective troll armies. The use of disinformation and misinformation campaigns by the two political actors are well-documented. But one of the more overlooked parts of the disinformation architecture (and the country's information ecosystem as a whole) is what we refer to as online influencers. Read more here.
FROM MESSAGE TO MEME: DLSU STUDY SHOWS HOW BULLYING ESCALATES ON SOCIAL MEDIA
Online bullying and harassment among Filipino youth has three dimensions, according to a two-year study by De La Salle University (DLSU): it can be aimed not only at individuals but also at groups and ideas; it can be either direct or veiled; and it can escalate from a private chat to a public meme. Read more here.
WOMEN'S DIGITAL INCLUSION IN PHILIPPINES TAKES SPOTLIGHT IN US-LED FORUM
The United States Agency for International Development (USAID) late last month conducted a virtual seminar tackling the access of women and underserved communities to digital technology in the Philippines. Over 300 participants attended the online dialogue last June 27, where they discussed topics related to digital inclusion, such as the gender mobile internet adoption and usage gap, key ICT policy changes and opportunities to increase women's mobile internet use, among others. Read more here.
PHILIPPINE INTERNET SPEEDS IMPROVED IN JUNE — OOKLA
The Philippines' internet speed improved last month, according to data by global speed monitoring firm Speedtest by Ookla. The country's fixed broadband median download speed increased to 68.94 megabits per second (Mbps) from 60.09 Mbps in May. Meanwhile, June's mobile internet median download speed improved to 21.41 Mbps from 19.26 Mbps the month before. Read more here.
IMPROVED INTERNET SERVICE BILL REFILED IN SENATE
Senator Grace Poe has refiled her bill that seeks to provide fast, reliable, and affordable internet connectivity across the country. Poe's proposed Better Internet Act, which was first filed in 2020, requires all public telecommunication entities (PTEs) and internet service providers (ISPs) in the country to broaden the scope of their services and adhere to the threshold on internet speed, quality and consistency. Read more here.
CHINA LOOKING TO HELP PH IMPROVE INTERNET SPEED
China is eyeing to help the Philippines to improve its internet speed to boost connectivity among Filipinos, its ambassador Huang Xilian said. According to report on "24 Oras" by JP Soriano, the Philippines and China are discussing four major areas of cooperation namely agriculture, infrastructure, energy, and people to people ties. "We should work even more in new infrastructure area, like in telecommunication, AI (artificial intelligence) and all these kind of information technology," Huang said. The Chinese ambassador also met with Information and Communications Technology (ICT) Secretary Ivan Uy to discuss cooperation on ICT. Read more here.
A CRYPTO GAME PROMISED TO LIFT FILIPINOS OUT OF POVERTY. HERE'S WHAT HAPPENED INSTEAD
Samerson Orias was working as a line cook last year in the rural Philippines when his friend told him he could make way more money playing a new video game. Orias was earning about 4,000 pesos a month (about $80, a little less than half the national minimum wage) making takoyaki—Japanese octopus balls. His friend told him he and others were pocketing up to $600 a month playing Axie Infinity, a game fueled by cryptocurrency and NFTs. Fourteen months later, most Filipino players, including Orias, have exited the game nursing anger and anxiety—and, in some cases, thousands of dollars down. Read more here.
BSP TO FILE CHARGES AGAINST CITIZEN WHO BURNED P20 BILL IN A VIDEO POSTED ON SOCIAL MEDIA
The individual who posted a video on social media showing him burning a P20 banknote will face charges. The Bangko Sentral ng Pilipinas (BSP) has already filed the necessary charges against the individual, according to BSP Strategic Communication and Advocacy Managing Director Antonio Lambino II. Lambino said the BSP has been in coordination with the Philippine National Police (PNP). Read more here.
All resources here are linked to the original websites. If any of the resources will be used otherwise, please do credit the source.