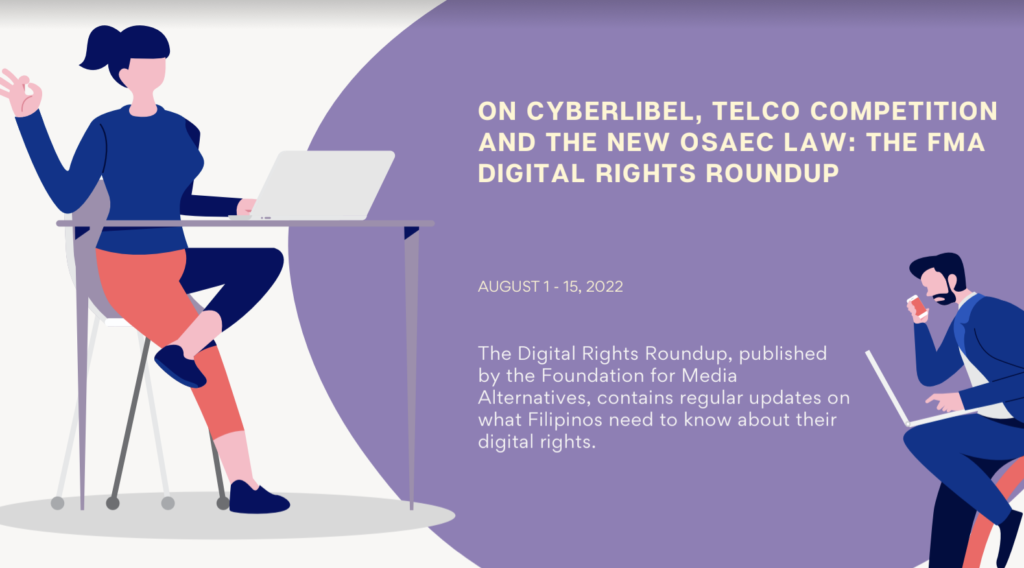 POLICE ARREST EX-VP CANDIDATE WALDEN BELLO FOR CYBER LIBEL
Former vice presidential candidate and Laban ng Masa chairperson Walden Bello was arrested for two counts of cyber libel by the police on Monday, August 8. Bello's arrest was confirmed by his executive secretary and Laban ng Masa spokesperson Leomar Doctolero. The former VP candidate was brought to the Quezon City Police District (QCPD) Station 8 in Project 4, Quezon City. Read more here.
WALDEN BELLO'S CAMP URGES REMULLA: 'EXERCISE INDEPENDENCE'
The camp of Laban ng Masa chairperson Walden Bello has urged Justice Secretary Crispin Remulla to "exercise independence" in relation to the former vice presidential candidate's cyber libel case. Luke Espiritu, one of Bello's legal counsels, made the call during a press conference on Wednesday, August 10. Read more here.
PH AMONG LEAST CYBERSECURE IN ASIA, SAYS STUDY
The Philippines is one of the least cybersecure countries in Asia, based on the presence of phishing sites and malware hosting platforms and average number of accidental downloads of computer virus and other malicious codes, according to a study by an online marketing firm. Read more here.
OVER 5M POSTS DOWNED FOR VIOLATING VIOLENCE, INCITEMENT RULES DURING PH ELECTIONS – META
Meta on August 4, provided figures for actions taken by Facebook on harmful content relating to the 2022 Philippine elections. The company removed 15,000 accounts via its automated systems for violating the platform's rules on inauthentic behavior or the use of fake accounts. Facebook noted that its automated systems were able to take down the said accounts thanks to earlier work ahead of the elections by its investigative teams. The teams took down more than 10,000 accounts, with the insights from these takedowns applied to its automated system. The company said that an expert team reviews the accounts identified by the system before they are taken down. Read more here.
FACEBOOK TAKES DOWN VERIFIED ACCOUNT OF GUNMAN CHAO TIAO YUMOL
Meta, the company that owns Facebook and Instagram, removed the verified account of Chao Tiao Yumol, the suspect in the Ateneo shooting incident that killed three people. The tech company confirmed that they had taken down Yumol's Facebook and Instagram accounts. On Tuesday, July 26, the blue check next to Yumol's name on Facebook – indicating a verified status – had also been removed. Read more here.
A SUSPECTED KILLER'S FANS ARE STILL PROMOTING HIM ONLINE
Rose Furigay, the former mayor of the city of Lamitan in the Philippines, was attending her daughter's graduation when she died on July 24. A man shot and killed her and two others at the graduation ceremony at the Ateneo de Manila University's School of Law. The shooting suspect was quickly identified as Chao Tiao Yumol, a doctor from Lamitan and microinfluencer who used his verified profile on Facebook—where he had about 60,000 followers at the time of the shooting—to discuss politics, including his support of former president Rodrigo Duterte and current president Ferdinand "Bongbong" Marcos Jr., as well as his ongoing grievances with the Furigay family. Read more here.
INTERNET TROLLS: THE UNSEEN FORCE BEHIND PHILIPPINES' POLITICS
Filipinos are ranked number 1 in the world for the most amount of time spent on social media, with information gleaned online highly influential. Even former president Rodrigo Duterte was accused of using online trolls to win the 2016 presidency by promoting his policies. In the 2022 Philippines elections, troll armies are back in the spotlight. Undercover Asia investigates who are running these troll armies and how they operate. Watch here.
HOUSE BILL SEEKS PENALTIES FOR CREATING, SPREADING 'FAKE NEWS'
A bill has been filed at the House of Representatives pushing for the criminalization of the "creation and dissemination" of "fake news" — the common term for misinformation and disinformation. In filing House Bill No. 2971, Reps. Josephine Lacson-Noel (Malabon) and Florencio Gabriel Noel (An Waray party-list) sought amendments to the Cybercrime Prevention Act of 2012 to include a definition for "fake news" which they said refers to "misinformation and disinformation of stories, facts, and news which is presented as a fact, the veracity of which cannot be confirmed, with the purpose of distorting the truth and misleading its audience." Read more here.
PRONE TO ABUSE? HOUSE BILL SEEKING TO CRIMINALIZE SPREAD OF FAKE NEWS DRAWS CONCERNS
While generally lauded, the filing of a fake news bill at the House of Representatives concerned a few members of the local online community who perceived it could be prone to abuse by striking critics. Reps. Josephine Lacson-Noel (Malabon) and Florencio Gabriel Noel (An Waray party-list) sought amendments to the Cybercrime Prevention Act of 2012 under House Bill 2971, which aims to criminalize the "creation and dissemination" of fake news. Read more here.
ABS-CBN TO ACQUIRE 34.99% OF TV5, CIGNAL INVESTS IN SKYCABLE
Media giants ABS-CBN and TV5 officially signed a multibillion-peso investment deal after over a year of negotiations, effectively consolidating both companies' content and resources. In a disclosure to the Philippine Stock Exchange on Thursday, August 11, ABS-CBN said it is acquiring close to 6.5 million primary common shares in TV5, representing 34.99% of the total voting and outstanding capital stock of TV5, for P2.16 billion. Read more here.
DITO FILES COMPLAINT AGAINST GLOBE, SMART FOR ABUSE OF DOMINANCE
New telco player DITO Telecommunity has filed complaints before the Philippine Competition Commission (PCC) against the country's top two telcos — Globe Telecom and Smart Communications — for their alleged abuse of their market dominance through interconnection woes. In a press conference on Monday, Aug. 8, DITO chief administrative officer Adel Tamano said the National Telecommunications Commission (NTC) legally requires telcos to interconnect with all players in the market, allowing calls and text to and from other service providers. Read more here.
GLOBE HITS BACK AT DITO, ASKS NTC TO COLLECT P622-M PENALTY FOR INTERCONNECT VIOLATIONS
A day after DITO Telecommunity filed a complaint at the Philippine Competition Commission (PCC) for abuse of dominance against Globe Telecom and Smart Communications, the Ayala-owned telco has asked the National Telecommunications Commission (NTC) to require the Dennis Uy-owned operator to pay for interconnect penalties amounting to P622 million. Read more here.
NEGATIVE SEO: HOW BLACK HAT MARKETERS ABUSE GOOGLE'S RULES VS TOXIC BACKLINKS
Despite Google's efforts to fight manipulative schemes, wily black hat SEO operators are making themselves relevant by using the same unethical techniques to sabotage in behalf of clients. Read more here.
DITO COMPLAINS: ONLY 3 OUT OF OUR 10 CALLS CONNECT TO GLOBE, SMART
If you recently bought a Dito Telecommunity SIM, you could be having a tough time calling your friends or relatives who are Globe or Smart subscribers. That's according to Dito chief administrative officer Adel Tamano, who said that only 3 out of 10 calls made by Dito subscribers connect to Globe and Smart. Dito blames both Globe and Smart for the interconnectivity problems, and filed a complaint before the Philippine Competition Commission (PCC) against the two telco giants. Read more here.
NEW LAW PUTS PRESSURE ON PRIVATE STAKEHOLDERS TO PROTECT CHILDREN VS ONLINE SEXUAL ABUSE
A new law requires social media platforms, internet portals, and internet service providers to step up efforts against online sexual abuse to protect children. The Republic Act No. 11930 or Anti-Online Sexual Abuse and Exploitation of Children (OSAEC) lapsed into law on July 30, according to Sen. Risa Hontiveros, the author and sponsor of the Senate bill. It amends the Anti-Pornography Act or Republic Act No. 9775 to give more teeth to the law to protect minors against online sexual exploitation, disregarding any form of consent from the child. Read more here.
PLDT-SMART, PALO ALTO BLOCK OVER 1 BILLION ATTEMPTS TO ACCESS CHILD SEXUAL ABUSE MATERIALS
The Online Sexual Abuse and Exploitation of Children (OSAEC) has intensified over the pandemic to become one of the Internet's most serious dangers, especially in the Philippines. A study published in 2022 found that 20% of Internet-using children aged 12 to 17 in the country were victims of online sexual exploitation and abuse in 2021. Telco giant PLDT-Smart took the initiative to address this problem and worked with cybersecurity firm Palo Alto to produce a first-of-its kind child protection platform that prevents access to known child sexual abuse and exploitation materials (CSAEM). As revealed in a virtual briefing on August 2, the software has blocked over 1 billion attempts from subscribers to access CSAEM since the platform's launch in November 2021. Read more here.
DICT INKS CO-LOCATION DEAL WITH NGCP FOR NATIONAL BROADBAND PLAN
The Department of Information and Communications Technology (DICT) on Wednesday signed an agreement with the National Grid Corp. of the Philippines (NGCP) to co-locate its facilities in the grid operator's infrastructure for the implementation of the government's National Broadband Plan. At a signing ceremony in Quezon City, DICT Secretary Ivan John Uy said that the agency signed a master lease agreement with the NGCP "because we would definitely have to co-locate our facilities inside the NGCP infrastructure." Read more here.
COA FLAGS DEPED PURCHASE OF 'PRICEY, OUTDATED' LAPTOPS
The Department of Education (DepEd) on Thursday confirmed that it received in March an audit observation memorandum from the Commission on Audit (COA) for buying P2.4 billion worth of reportedly "outdated and pricey" laptops for teachers, in line with the implementation of distance learning amid the COVID-19 pandemic. Read more here.
DEPED OPEN TO REPLACING TEACHERS' 'OUTDATED, PRICEY' LAPTOPS
The Department of Education (DepEd) on Wednesday said it is considering replacing the reportedly "outdated and pricey" laptops purchased last year for public school teachers. Atty. Michael Poa, the spokesperson of DepEd, said if the P2.4-billion worth of laptops in question is proven to have not been of quality, they will either seek a "quick fix" or invoke the warranty provision of these gadgets. Read more here.
INTERESTED IN ENROLLING? SATIRICAL UNIVERSITY 'ISCP' GOES VIRAL
A school-themed satire page called the "International State College of the Philippines" or "ISCP" has caught the attention of Filipinos with memes that humorously mimic college and university pages. Acting like a real university, the ISCP started to trend after posting the results of its "entrance exam" for aspiring "Blue Aspins," August 5. The post blew up, garnering an initial 215,000 reactions. The Facebook page has since garnered more than 500,000 followers as of Wednesday, August 10. Read more here.
NEDA TO PURSUE DIGITALIZATION PROGRAM IN GOV'T BUREAUCRACY
The National Economic and Development Authority (NEDA) said it will pursue the country's digitalization program in the government as highlighted by Pres. Ferdinand Marcos Jr.'s first State of the Nation Address (SONA). NEDA undersecretary for the policy and planning group Rosemarie G. Edillon stressed that there will be greater digitalization, including government processes and a ubiquitous digital economy. Read more here.
US, WB TO EXTEND ASSISTANCE IN DIGITALIZATION OF PH TAX SYSTEM
Department of Finance (DOF) secretary Benjamin Diokno met recently with United States ambassador to the Philippines Marykay Loss Carlson and representatives from the World Bank (WB) to discuss development cooperation in a number of areas, including the digitalization of the local tax system. The USAID previously supported the Department of Finance (DOF) in crafting the comprehensive tax reform program through technical assistance, while the US Trade and Development Agency (USTDA) provided a grant worth $809,450 for the Bureau of Internal Revenue's (BIR) Information Communication Technology Modernization Strategy and Data Center. Read more here.
3 TELECOM FIRMS KICKSTART PH'S LONGEST SUBMARINE FIBER CABLE NETWORK WORTH P8.2B
Three telecom firms — Globe Telecoms, Eastern Communications, and InfiniVAN – marked a milestone on Thursday, July 14, as they kickstarted the deployment of fiber cables to build the country's longest submarine fiber cable network worth around $150 million or about P8.2 billion. Read more here.
PHILIPPINE GOVERNMENT LAUNCHED BLOCKCHAIN TRAINING PROGRAM
The Philippines' science and technology department recently launched a blockchain training program. It recognizes the significance of this growing technology that could benefit the country. Crypto adoption is spreading worldwide, so other nations may follow soon. Read more here.
STABLE INTERNET IN PH POSSIBLE IF REAL ESTATE SECTOR, TELCOS WORK TOGETHER– GROUP
A non-government organization has called on the real estate sector and telecommunication companies to work hand-in-hand in ensuring the availability of stable internet connections in communities. This comes amid reports that some land developers allegedly block the construction of network infrastructure which could improve the internet in the country. Read more here.
FALSE: POSTS CLAIMING CARMELITE NUNS WATCHED CONTROVERSIAL FILM WITH MAHJONG SCENE
Iloilo Metropolitan Times, a tourism and business newspaper in Iloilo City, debunked the claim in a fact-check report on August 5. The publication stated that the two nuns wearing brown clothing are from the Missionaries of St. Therese (MST) of the Child Jesus Convent in the town of Pavia in Iloilo City. The report also pointed out that Carmelite nuns are cloistered. Read more here.
WHAT YOU NEED TO KNOW ABOUT FACEBOOK'S MOVE TO SCRAP 'LIVE SHOPPING' FEATURE IN OCTOBER
Meta announced that the live shopping feature on Facebook would be removed starting October 1 due to changing consumer behaviors. However, the company noted that
users can still enjoy live events on the platform. Read more here.
All resources here are linked to the original websites. If any of the resources will be used otherwise, please do credit the source.