AUGUST 2022
GenderScoop is a monthly digest on gender & ICT in the Philippines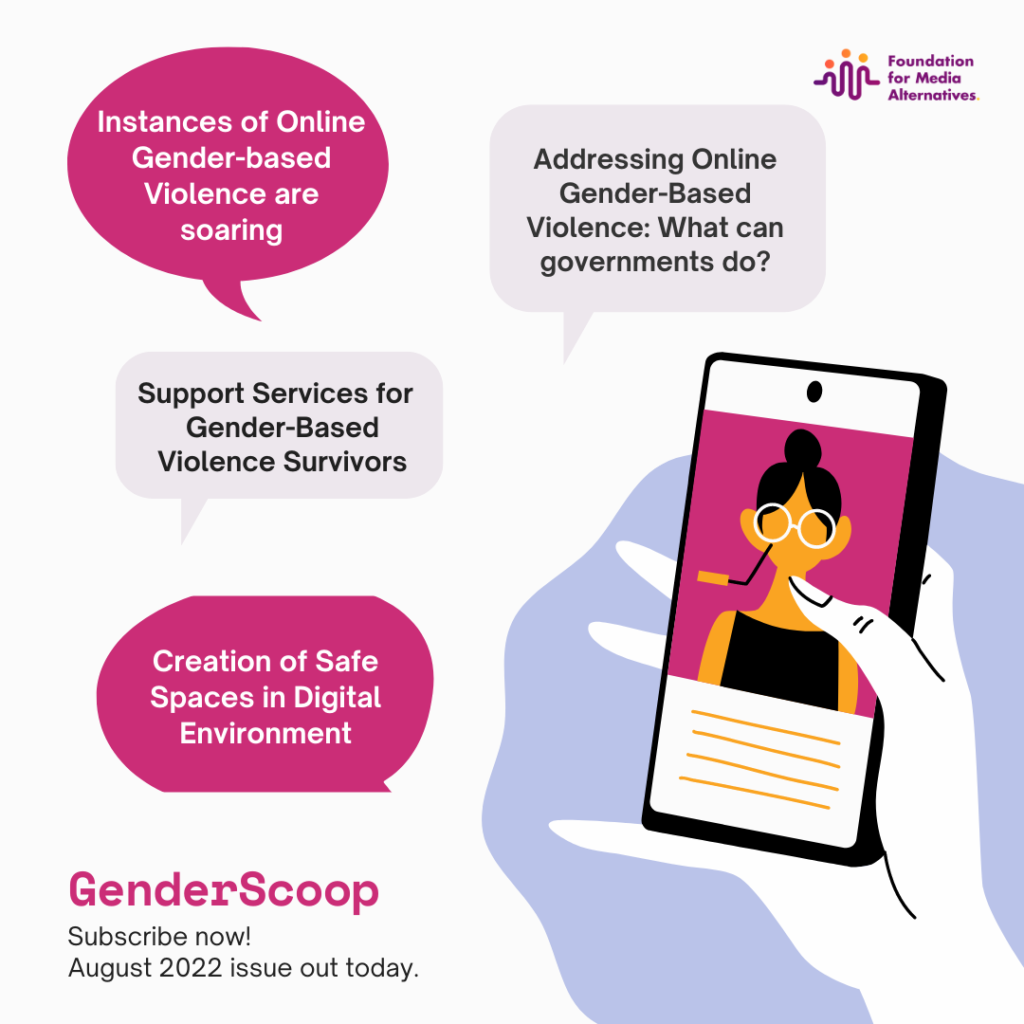 What we gather this month:
Reports of various forms of gender-based violence continued. How responsive are laws in the Philippines? Are there instances in which we need to rethink about how we deal with gender and ICT?
What Is Online Gender-Based Violence?

Online gender-based violence is a form of gender injustice and discrimination that takes place in online spaces. This type of GBV can include stalking, harassment, bullying, and unsolicited pornography, among other actions.
NBI arrests man 'for human trafficking, online peddling of child pornography'
Subject was arrested in flagrante delicto (caught in the act) offering an individual for sexual intercourse in exchange for a sum of money, and selling child pornographic materials
General Santos prosecutors reject plea to reverse cyber libel case dismissal vs commentators
Prosecutors rejected former South Cotabato representative Shirlyn Banas-Nograles' appeal for them to reverse a resolution that dismissed her P100-million cyber libel complaint against two radio commentators and their media company in General Santos City.
Man nabbed in Davao over alleged threats to expose ex-girlfriend's private photos
A call center agent was nabbed in Davao City for allegedly threatening to spread the private photos and videos of his ex-girlfriend.
Sexual abuse allegations vs. 6 teachers 'very disturbing': DepEd
"The allegations of sexual harassment in Bacoor National High School is very disturbing news and we are taking this very seriously."- DepEd spokesperson Michael Poa
Addressing Online Gender-Based Violence: What can governments do?

Governments have a responsibility to create better laws to protect women from targeted harassment online and even the playing field for everyone. 
Republic Act 11930 or Anti-Online Sexual Abuse or Exploitation of Children lapsed into law
"The passage of Republic Act 11930 positions the Philippines as one of the first countries in East Asia and the Pacific region to have an institutionalized and collaborative approach to prevention and response against online sexual abuse and exploitation of children." – SaferKidsPH consortium
'Growing trend' of sexually-abused studes pushes Brosas to call for review of Safe Spaces Law
"The growing trend of sexual harassment perpetrated by faculty members against young students is alarming. While we have an existing law regarding handling cases of sexual harassment, it is clearly not enough. There is a need to review the Safe Spaces Act and ensure that policies are being implemented properly in schools." – Gabriela Women's Party-list Rep. Arlene Brosas
Solon files bill to update law vs bullying; says six out of 10 students are victims
Puwersa ng Bayaning Atleta (PBA) Party-list Rep. Margarita "Migs" Nograles has filed House Bill 2886, otherwise known as the "Stop Bullying Act of 2022" to call for more teeth to the anti-bullying law or the Republic Act No. 10627.
Government launches war vs cyber child sexual exploitation
In a press conference in Malacañang on Tuesday, August 23, Justice Secretary Jesus Crispin Remulla said concerned government agencies, including the National Bureau of Investigation, Philippine National Police, Department of Information and Communication Technology, Department of Social Welfare and Development, and Department of the Interior and Local Government, among others, have been coordinating closely with the United States Homeland Security and the United Nations in a bid to put the perpetrators of these abuses to children behind bars.
Court compels Facebook, YouTube to disclose who are behind 'Usapang Diskarte'
Manila Regional Trial Court Branch 24 issued separate warrants for Google LLC/YouTube and Meta/Facebook, requiring them "to disclose or submit, within seventy-two (72) hours from receipt of such order, relevant data in its possession or control."
PCW slams content creators promoting sexual abuse, exploitation
The Philippine Commission on Women (PCW) called on appropriate agencies to investigate "erring" content creators that promote sexual harassment, child abuse, and exploitation.
CHR, PCW seek probe into content creators' prank videos 'promoting sexual abuse, harassment'
This after CHR and PCW received reports on hidden cameras being set up where "men would lay their heads on women's laps; holding their hands out of nowhere; catcalling; and even soliciting kisses citing a number of made-up reasons."
Support Services for Gender-Based Violence

All Gender-based Violence survivors have a right to care and support. 
NGO provides mental health support for sexually abused women
SAGIP Babae Foundation, through its Facebook Community will hold webinars and bi-monthly group sessions, and offer self-care strategies, wellbeing and holistic healing education.
4 things to do when your partner threatens to leak your private photos
These private photos land in the hands of wrong people. Sometimes, even your own lover can turn into a perpetrator and use the nude photos "YOU ENTRUSTED THEM WITH" as a weapon to threaten and manipulate you just to satisfy their selfish desire.
Creation of Safe Spaces in Digital Environment

We call on social media platforms to invest in creating online safe spaces.
WhatsApp is adding new privacy options, including screenshot blocking and a stealth mode
The feature, which rolls out to everyone this month, will let WhatsApp users curate which contacts can see their online status while hiding it from others.
How to make sure your private messages stay private
Facebook, along with other tech companies, has long had to contend with pressure from government officials around the world over making messages accessible to law enforcement agencies in order to prevent bad actors from using their platforms for illegal activities.

www.makeitsafe.ph
A practical information on cyber-safety and online responsibility that brings together Globe's various efforts to raise awareness and educate the public on internet safety, especially cyberbullying, which affects many young people.

Globe to develop more digital solutions in support of government's digitalization goals
Globe Group, the Philippines' leading digital solutions platform, is keen to develop more innovative solutions towards Filipinos' digital enablement in line with the Marcos administration's digitalization goals.  

Facebook agrees to settle Cambridge Analytica privacy suit
Facebook has reached a preliminary agreement in a long-running lawsuit seeking damages from the social network for allowing third parties, including the company Cambridge Analytica, to access users' private data. 
---
Help grow awareness on gender & ICT issues in the Philippines. Share this issue and invite your network to subscribe to GenderScoop.