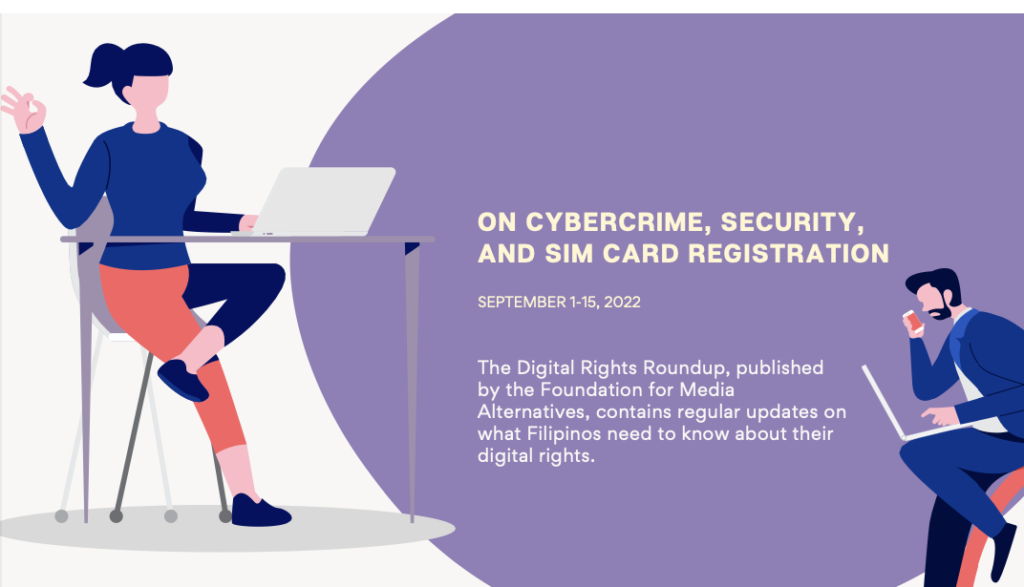 SECURITY EXPERT LAUNCHES UNIFIED CYBERSECURITY PLATFORM CHALLENGES
TIn a recent press briefing, Ian Felipe, Trend Micro Philippines country manager, told journalists that local organizations have to act fast because they were identified in Trend Micro's 2021 Annual Cybersecurity Report as some of the most vulnerable in the region. Read more here.
MARCOS ADMIN URGED TO FOCUS ON CYBERSECURITY TRAINING, EDUCATION
Educating the public as well as upgrading professional skills on safety and cybersecurity should be pushed instead of proposals to revive SIM-card registration which was earlier vetoed by former President Rodrigo Duterte. Read more here.
CYBER COMPANY URGES FILIPINOS TO INSTALL SECURITY SOLUTIONS
Cyber company Kapersky urges Filipinos to install security solutions in their everyday devices to have a "safety net" against data breaches. Siang Tion Yeo, the firm's Southeast Asian section general manager, said 97 percent of Filipinos surveyed are aware of online threats but only 21 percent actually download security solutions.
Read more here.
POE EXPECTS FRUITFUL PH-SINGAPORE ALLIANCE VS. CYBERCRIME
Senator Grace Poe requested Department of Information and Communications Technology (DICT) Secretary Ivan John Uy to regularly update the Senate on the results of the signed memorandum of understanding (MOU) between the agency and the ICT Ministry of Singapore on cybersecurity, cybercrime, cyber investigation, and cyber threats analysis. Read more here.
GLOBE, SMART INTENSIFY EFFORTS TO COMBAT TEXT SCAMS
Mobile network service providers Globe Telecom Inc. and Smart Communications Inc. are intensifying their efforts to combat text scams amid the spread of spam or unsolicited text messages that contain the names of subscribers. Read more here.
DITO HITS 12-M SUBSCRIBERS AHEAD OF SCHEDULE
Despite its recent tiff with local industry rivals, new telecommunications provider DITO Telecommunity announced that it had hit its target of 12 million subscribers months ahead of schedule. The target was initially set for the end of 2022. Read more here.
DUBIOUS SITES SPAMMING PH NEWS GROUPS TRACED TO SWEDISH BLACK HAT SEO OPERATOR
To the ordinary internet user, the idea of charging to get bad backlinks removed may seem preposterous. In the perverse world of black hat search engine optimization (SEO) operators, however, it makes perfect sense because there is a market that can be exploited. Moreover, it is a potentially lucrative business. Read more here.
INTERNATIONAL SYNDICATE MAY BE BEHIND PERSONALIZED TEXT SCAM, SAYS DICT CHIEF
"We actually have already initiated our investigation. We are on top of it right now… This is more than meets the eye. There are criminal syndicates really that are operating, and these criminal syndicates are international," Uy told the House Committee on Appropriations deliberating on the agency's proposed 2023 budget. Read more here.
TELCO CONTRACTORS MAY BE SOURCES OF DATA IN TEXT SCAMS
Contractors of the three major telecommunication companies in the country are among the likely sources of the personal information that were used in personalized text scam messages that have proliferated across the country, according to former privacy commissioner Raymund Liboro. Read more here.
SCAM TEXTS BECOME JUMP-OFF POINT FOR REVIVAL OF VETOED SIM REGISTRATION
Rampant spam and scam texts became the jumpoff point for renewed discussions on the vetoed proposal for mobile users to register their SIMs at a Senate hearing on Thursday that focused on the messages that have been bothering mobile users for months. Read more here.
ZUBIRI CALLS FOR PASSAGE OF SIM CARD REGISTRATION AS HOUSE BILL HURDLES 1ST READING
"May I make an appeal to my dear colleagues, especially to the chairman of the Committee on Public Services: let us pass the SIM Card Registration Law, as soon as possible. We passed it with lots of debates in the previous Congress. Let's pass it again, hopefully before the break, to show to the public that we mean business when it comes to stopping all sorts of text scams," Zubiri stressed. Read more here.
SALCEDA SUSPECTS CONTACT TRACING AS SOURCE OF DATA LEAK
Contact tracing conducted by business establishments at the height of the COVID-19 pandemic is possibly one of the culprits behind the spate of scam text messages sent to mobile phone users. Read more here.
CONGRESS EYES PASSAGE OF SIM CARD REGISTRATION LAW BY OCT. 1
The House of Representatives and the Senate are eyeing the passage on third and final reading of the proposed laws seeking the registration of all postpaid and prepaid mobile phone SIM cards by October 1, House majority leader Manuel Jose "Mannix" Dalipe said on Friday, Sept. 9. Read more here.
POE EXASPERATED ON INACTION OF NTC IN ADDRESSING TEXT SCAMS
Sen. Grace Poe expressed disappointment over the National Telecommunications Commission's (NTC) seeming slack in taking action against the proliferation of text scams victimizing millions of mobile phone users. Read more here.
PNP RENEWS CALL FOR MANDATORY SIM CARD REGISTRATION AMID PROLIFERATION OF PERSONALIZED TEXT SCAMS
The Philippine National Police (PNP has renewed the call to enact a law that would mandate the registration of all SIM (Subscriber Identity Module) cards amid the proliferation of the personalized text scams in the past days. Read more here.
GCASH ROLLS OUT NEW ANONYMITY FEATURE, ASSURES NO DATA BREACH IN SYSTEM
Mobile wallet GCash has rolled out a new anonymity feature in a bid to further boost consumer data protection. In a statement issued Thursday, GCash announced an application update which hides the full names of users in its send money service. Read more here.
DICT VOWS TO PRIORITIZE FREE PUBLIC WI-FI REVIVAL
Department of Information and Communications Technology (DICT) Secretary Ivan John Uy on Friday vowed to renew and reactivate the "dead" free Wi-Fi service areas in three months. Read more here.
LOCAL TELCOS, CABLE FIRMS MOVE TO CURB ILLEGAL CABLE CUTTING
Rival service providers have launched "Oplan Kontra Putol," an industry-wide initiative that seeks to inform the public about illegal cable-cutting and the disruption it brings to families and communities. Read more here.
DOJ DISMISSES CYBER LIBEL COMPLAINT VS MAKABAYAN BLOC MEMBERS
The DOJ dismisses the PNP CIDG's complaints against Gabriela Representative Arlene Brosas, former Bayan Muna representative Carlos Isagani Zarate, and former Gabriela representatives Luzviminda Ilagan and Liza Maza for lack of merit. Read more here.
JOIN GOV'T IN FIGHTING FAKE NEWS: PBBM
During the 2022 National Public Relations Congress held Thursday, Press Secretary Trixie Cruz-Angeles said Marcos is optimistic that communications professionals would use their voices to "leverage positive communication in stirring the nation towards full recovery and lasting unity." Read more here.
PADILLA WANTS MORE DRASTIC APPROACH TO COMBAT FAKE NEWS
IIn his Senate Resolution 191, Padilla said the global economy is losing about USD78 billion annually due to disinformation in the financial, public health, and business sector as well as in politics. He said the creation of an inter-agency approach is necessary to prevent abuses in the use of the internet and other tools for information and communication. Read more here.
SOLON: DICT CAN BOOST PH INTERNET SYSTEM
A legislator on Saturday said he was confident that Information and Communication Technology (DICT) Secretary Ivan John Uy would be able to turn around the sorry state of Internet access in the Philippines. Read more here.
100 PINOY VICTIMS OF JOB SCAMS IN CAMBODIA RESCUED
More than 100 overseas Filipino workers (OFWs) in Cambodia who fell victim to online scams offering jobs have been rescued since last year. The Philippine Embassy in Phnom Penh has facilitated the rescue of 61 OFWs last year and 50 more so far this year. Read more here.
DILG, PNP RESCUE 15 MINOR VICTIMS OF CYBERSEX CRIME
The Department of the Interior and Local Government conducted entrapment operations in Sampaloc, Manila which led to the rescue of 15 minors who were victims of cybersex crimes in Manila. Read more here.
IT-BPM INDUSTRY PROJECTS 1.1 MILLION NEW JOBS BY 2028
After enduring the economic instability at the height of the pandemic, the country's IT and Business Process Management sector expects a single-digit improvement or 8% in full-time employees (FTEs) and double-digit growth to 10% in earnings. Read more here.
AKLAN PUSHES FOR FULL DIGITIZATION OF GOV'T TRANSACTIONS BY 2024
The Aklan provincial government is looking to digitize major transactions at the provincial capitol, according to governor Jose Enrique Miraflores, who unveiled the initiative as part of the culmination of the Visayas ICT Organization Congress (VICTOR) held at recently at Seawind Resort Boracay. Read more here.
All resources here are linked to the original websites. If any of the resources will be used otherwise, please do credit the source.