SEPTEMBER 2022
GenderScoop is a monthly digest on gender & ICT in the Philippines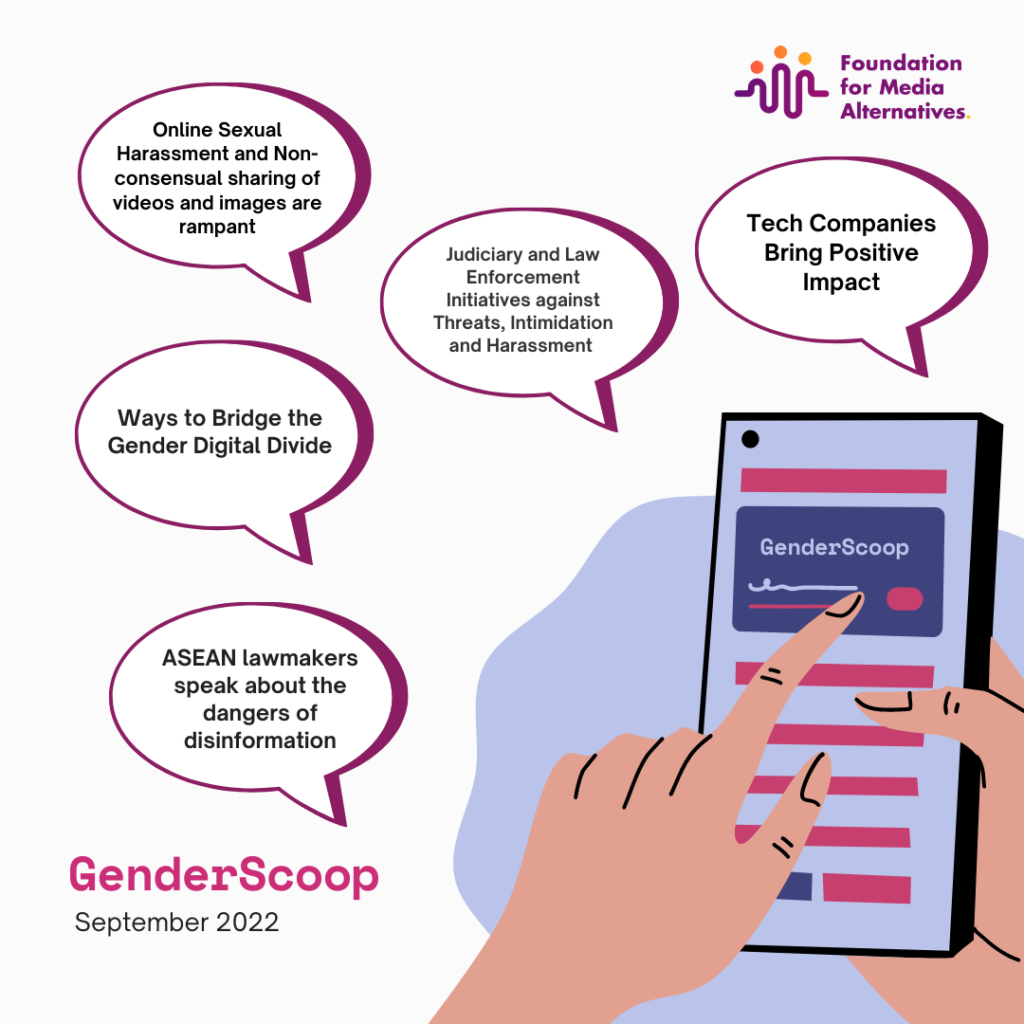 What we gather this month:
Online Sexual Harassment and Non-consensual sharing of videos and images are rampant; ASEAN lawmakers speak about the dangers of disinformation; Judiciary and Law Enforcement Initiatives against Threats, Intimidation and Harassment; Tech Companies Bring Positive Impact; Ways to Bridge the Gender Digital Divide
WHAT IS SEXUAL HARASSMENT?

Sexual Harassment is unwelcome sexual advances, requests for sexual favors, and other verbal or physical harassment of a sexual nature.
Enough is enough: Where are the safe spaces?
RA 11313 was meant to enhance accountability processes by requiring schools to "take prompt action to eradicate the same actions [of sexual harassment or violence], prevent their recurrence, and treat their impacts," but in practice, this seldom transpired as intended.

DepEd urges harassment victims to come forward, file affidavits
The Department of Education (DepEd) on Thursday urged students of a high school in Bacoor, Cavite to come forward and file complaints if they experienced being sexually harassed by their teachers.

Senator seeks probe of school sex crimes
Under Senate Resolution 168, Senator Hontiveros cited alleged harassment and abuses by teachers at Bacoor National High School in Cavite, St. Theresa's College in Quezon City and the Philippine High School for the Arts in Los Baños, Laguna.
Woman, 23, nabbed for sharing sex video of Grade 9 students in Ilocos Norte
A 23-year old woman got arrested for sharing the alleged sex video of a 19-year old neighbor through Facebook Messenger. The victim/survivor is a female grade 9 student.
WHAT IS GENDERED DISINFORMATION?

Gendered and sexualised disinformation can be defined as "a subset of online gendered abuse that uses false or misleading gender and sex-based narratives against women, often with some degree of coordination, aimed at deterring women from participating in the public sphere. It combines three defining characteristics of online disinformation: falsity, malign intent, and coordination."
– https://www.mediasupport.org
Dangers of disinfo a regional, global concern – ASEAN lawmakers
Malaysian parliamentarian Maria Chin Abdullah also said that attacks on critical women are often gendered and sexualized in nature. APHR's mission looked into attacks on prominent Filipina politicians such as former vice president Leni Robredo, opposition Senator Risa Hontiveros, and Kabataan Representative Sarah Elago.
Judiciary and Law Enforcement Initiatives against Threats, Intimidation and Harassment

Police, prosecutors and judges play a central role in preventing and responding to violence against women. By adopting a victim-centred approach, fostering respect for victims and a non-judgemental attitude, these professionals will not only improve the effectiveness of their work, but they will also offer victims critical support in breaking free from violence. Victims will feel understood, believed, helped and supported, which is a way of empowering them as well as helping them to collaborate with law enforcement and diminishing their fear of reporting or asking for help.
PNP vows to protect judiciary members vs threats, intimidation
The PNP made the commitment when former anti-insurgency task force spokesperson Lorraine Badoy threatened Judge Marlo Magdoza-Malagar for rejecting a government petition to outlaw the Communist Party of the Philippines (CPP) and its armed wing, the New People's Army (NPA).

Court administrator speaks up about Badoy threat vs judge
Court Administrator Raul Villanueva made the remark when asked about former National Task Force to End Local Communist Armed Conflict spokesperson Lorraine Badoy's red-tagging and threat against a judge.
Tech Companies Bring Positive Impact

Tech for Good aims to combine societal impact and economic growth by demonstrating that technology can serve the common good: living better, all together.
Binance's global law enforcement training program continues its effort to provide support to agencies in the Philippines in detecting and prosecuting cyber criminals
As part of the Global Law Enforcement Training Program, Binance will provide further support to law enforcement agencies like the Philippines' Cybercrime Investigation and Coordination Center (CICC), the Philippine National Police (PNP) and other local agencies in detecting and prosecuting cyber criminals.
Google to equip 39,000 Filipino youths with in-demand, job-ready skills through Google Career Certificate scholarships
A Grow with Google initiative, Google Career Certificates provide a suite of flexible online training programs available on Coursera.org. These certificates, built and taught by Google, are designed to provide learners from all backgrounds with digital skills within an estimated time of 3 to 6 months.
Ways to Bridge the Gender Digital Divide

Tackling the digital gender gap means more than improving internet access—it means empowering women and girls to use online technology, preventing gender-based violence, and addressing discrimination in emerging technologies.
Comelec inks MOU with UNDP for women's greater political participation through digitalization
The Commission on Elections officially signed a Memorandum of Understanding (MOU) on Tuesday, Sept. 27, with the United Nations Development Programme (UNDP), sealing the poll body's intention to forge a cooperative relationship which aims to advance women's political participation through digitalization and capacity building.
Human Rights Council Holds Annual Discussion on the Integration of the Gender Perspective, Focusing on Overcoming Gender-Based Barriers to Freedom of Opinion and Expression
The report recommended a threefold approach to avoid a trade-off, including a gender-sensitive interpretation of the right to freedom; an internationally accepted standard on what constituted online gender-based violence, hate speech and disinformation; and a calibrated approach to ensure that responses by States and companies were aligned with the level of harm.
Help grow awareness on gender & ICT issues in the Philippines. Share this issue and invite your network to subscribe to GenderScoop.