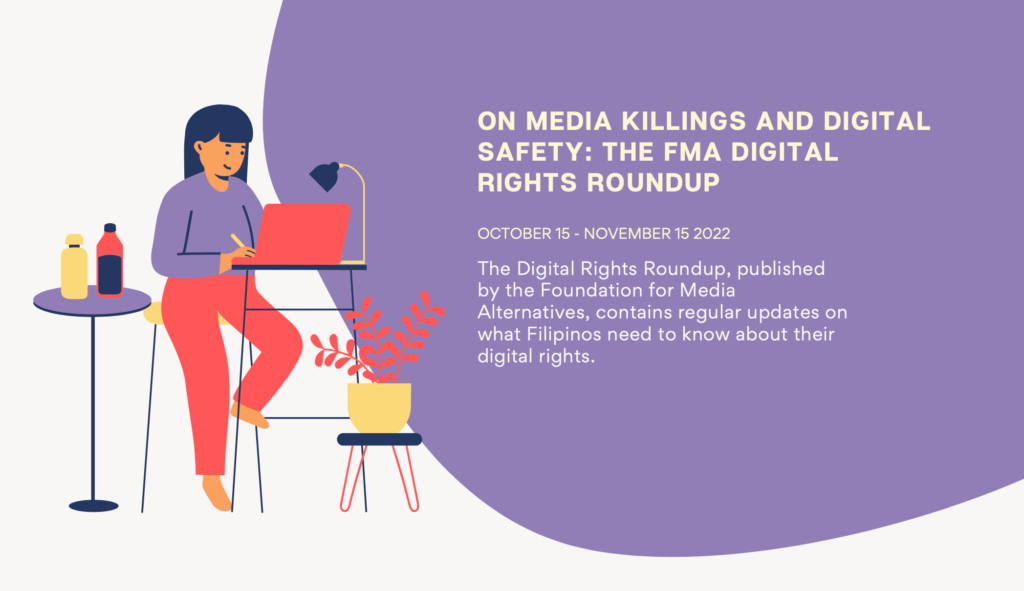 VIETNAM, THAILAND LEAD IN ASEAN MOBILE EXPERIENCE WHILE PH LAGS: REPORT
The Philippines ranked at the bottom in five measures and second to last in a further two categories. Vietnam's Download Speed Experience score was 9.5 Mbps (57.1%) faster than the Philippines. Read more here.
ROMUALDEZ ASSURES SWIFT PASSAGE OF 30 LEDAC-ENDORSED BILLS
Speaker Martin Romualdez assured President Ferdinand "Bongbong" Marcos Jr. of the House of Representatives' commitment to pass with dispatch the 30 vital measures approved during the Legislative-Executive Development Advisory Council (LEDAC) meeting as its Common Legislative Agenda (CLA). Read more here.
'SACHET' INTERNET, ULTRA-LOW PROMOS A HIT AMONG FILIPINOS AS INFLATION BITES
In an inflation-stricken country obsessed with social media, Filipinos have been seeking the best internet deals at the lowest possible cost. To continue browsing Facebook or dancing to the latest TikTok trends, Filipinos have turned to the so-called "piso WiFi," a service reminiscent of internet cafes and the "piso net" that boomed during the early 2000s. Read more here.
CYBERSECURITY IS A MATTER OF NATIONAL SECURITY, EXPERTS TELL MARCOS
"Cybersecurity must be treated as a matter of national security," Dindo Manhit, president of Stratbase Albert del Rosario Institute, said at a recent forum that the institute organized in partnership with the US Embassy in the Philippines. Read more here.
ICT DEPT, CISCO SIGN DEAL TO SUPPORT HYBRID WORK IN PHILIPPINES
The Department of Information and Communications Technology signed Wednesday a memorandum of understanding with networking solutions provider Cisco for "Country Digital Acceleration" to support hybrid work arrangements. Read more here.
SOUTHEAST ASIA'S TOP DIGITAL ECONOMIES EXPECTED TO HIT $200 BILLION IN 2022, REPORT SHOWS
South East Asia's top digital economies grew faster than expected in 2022 and are set to reach $200 billion in total value of transactions made this year, according to a new report by Google, Temasek and Bain & Company. Read more here.
SERVICE EYED TO AGGREGATE MSME E-COMMERCE HUBS
The Philippine government is eyeing to launch by the end of the year a service that aggregates e-commerce platforms which could benefit small entrepreneurs, according to the Department of Information and Communications Technology (DICT). Read more here.
DBM BEGINS WORK ON DIGITALIZING GOVERNMENT PROCUREMENT PROCESS
The DBM said the digitalization will start with the pilot testing of the revised Procurement Reports, considered as a milestone towards improved planning and monitoring by Procuring Entities.
Read more here.
ONLINE SELLERS, INFLUENCERS NEED TO PAY TAXES, SAYS BIR
At the Philippine E-Commerce Summit in Pasay, BIR Commissioner Lilia Guillermo reiterated that all sellers must pay taxes, including those in the digital economy. However, she noted that many have yet to do so. Read more here.
SKY CABLE INTENSIFIES CAMPAIGN AGAINST ILLEGAL CABLE CUTTING
Sky Cable said it is intensifying its campaign against rampant illegal cable cutting and theft that has adversely affected thousands of Filipino families' access to Internet and cable connectivity, information, and entertainment. Read more here.
JOURNALISTS UNION DENOUNCES RED-TAGGING OF OFFICER
National Union of Journalists in the Philippines (NUJP) strongly denounced the recent attacks against one of its officers by rabid red-tagger Lorraine Badoy together with Jeffery Celiz and others in a program aired at Sonshine Media Network International (SMNI). Read more here.
COURT AFFIRMS ORDER STOPPING NTC'S BLOCK VS WEBSITE OF ONLINE NEWS OUTFIT
ORTC Branch 306 denied the motions for reconsideration filed by NTC and fellow respondent, former National Security Adviser Hermogenes C. Esperon Jr. The motions asked the trial court to withdraw the injunction in favor of Alipato Media Center, Inc. which operates Bulatlat. Read more here.
SUSPECT IN MURDER OF PHILIPPINE JOURNALIST SURRENDERS
A suspect who had allegedly gunned down a Philippine journalist surrendered to authorities, the interior secretary said Tuesday, calling it a "major breakthrough" in a case that drew international concern. Read more here.
LAWMAKERS PUSH PROBE OF POLICE MEDIA VISITS
Lawmakers on Sunday called for an inquiry into the police "gesture" of conducting house visits on some media practitioners reportedly as a show of concern for their safety and well-being. Read more here.
PHILIPPINES 7TH WORST FOR JOURNALIST MURDERS — CPJ
The Philippines remained the seventh worst country in the world where journalist killers get away with murder, according to a report from the Committee to Protect Journalists (CPJ). Read more here.
TEACHER WHO WAS PART-TIME CARTOONIST KILLED IN SULTAN KUDARAT
According to initial reports, including from 91.3 Brigada News FM Lebak in Sultan Kudarat, local police are investigating the death of Benharl Kahil, who was shot dead in the town's Barangay Pasandalan. Kahil was a teacher and art coordinator at Lebak Legislated National High School who also created editorial cartoon. Read more here.
GROUPS SLAM LATEST 'RED-TAGGING' AT ONLINE LECTURE IN UP BAGUIO
The student council and different student organizations at the University of the Philippines (UP) Baguio on Tuesday denounce a retired military official who reportedly linked them to communist rebels during an online lecture as part of the National Service Training Program (NSTP) held for students. Read more here.
2 NEWS OUTFITS COMPLAIN OF RED-TAGGING AT UN
Left-wing media outfits Bulatlat and Pinoy Weekly took the government to task before two special rapporteurs of the United Nations (UN), complaining of the repression they experienced during the administration of former President Rodrigo Duterte. Read more here.
SCAM SITES DUPING PINOYS CONTINUE TO BE PROMOTED ON GOOGLE, FACEBOOK
Despite the public being constantly warned over the years, many hapless Filipinos continue to be duped by fake and phishing websites and other online scams that proliferate in the Internet. Read more here.
PH FIRMS AMONG MOST VULNERABLE TO CYBERATTACKS, SAYS KROLL REPORT
Enterprises in the Philippines are among the most vulnerable in the Asia-Pacific region to cyberattacks that cause business interruption and even data loss, according to a recent report by independent risk advisory firm Kroll. Read more here.
SIM REGISTRATION IS FIRST BILL SIGNED INTO LAW BY MARCOS JR.
IRe-filed in the 19th Congress, the measure seeks to regulate the registration and use of SIMs by mandating subscribers to register with telecommunication entities before SIMs are activated. Existing subscribers must also register or risk deactivating or retiring their SIMs. Read more here.
INTERNET, TV TOP SOURCES OF FAKE POLITICAL NEWS, SURVEY SAYS
Over 60 percent of Filipinos think that social media or the internet and television are the leading sources of fake news about government and politics, based on the results of the Pulse Asia survey released on Tuesday, Oct. 11. Read more here.
VP SARA DENIES DEPED PLAN TO REBRAND MARTIAL LAW INTO 'NEW SOCIETY'
Vice President and Education Secretary Sara Z. Duterte has denied reported plans to rebrand Martial Law as the "new society", saying the Department of Education (DepEd) is not in the business of "erasing these facts and replacing them with something else." Read more here.
SENATE ENDS PROBE ON 'OVERPRICED' LAPTOPS; UNCOVERS COST PER UNIT ONLY P26,000
The Senate Blue Ribbon Committee concluded on Thursday, Oct. 20, its final hearing on the alleged P2.4 billion "overpriced" and "outdated" laptops of the Department of Education purchased through the Procurement Service of the Department of Budget and Management (PS-DBM). Read more here.
DSWD LAUNCHES SYSTEM TO COLLECT DATA OF MINOR LAW OFFENDERS
In a bid to improve the handling of cases involving law offenders who are minors, the Department of Social Welfare and Development (DSWD) on Friday said it has launched an information system for data collection. Read more here.
CCPO ALERTS PUBLIC AGAINST HACKERS, SCAMMERS, POSING AS POLICE OFFICERS
Aside from ATM scams and budol-budol, Cebu City police have also alerted the public against individuals who pose as police officers to scam their victims and steal their personal information. Read more here.
All resources here are linked to the original websites. If any of the resources will be used otherwise, please do credit the source.