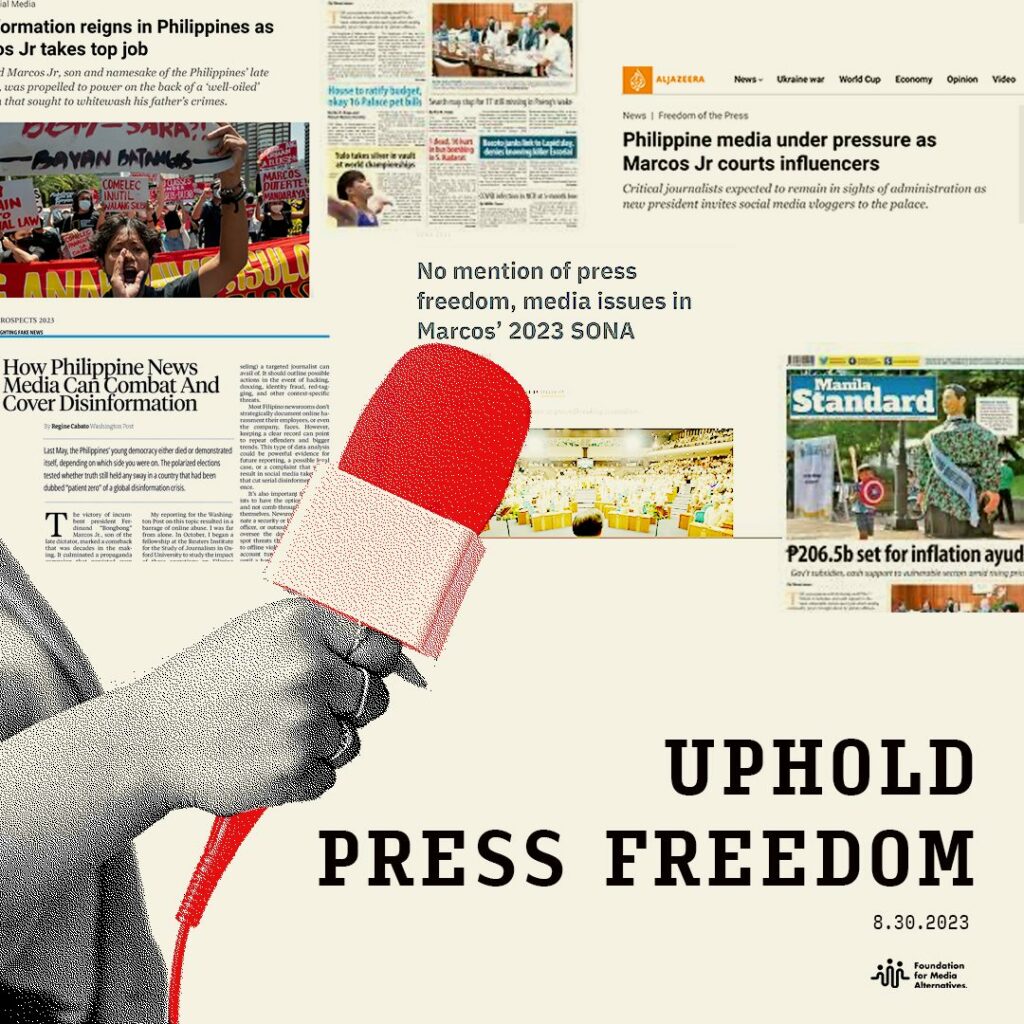 Today's second commemoration of the National Press Freedom Day is an opportunity to shine an unrelenting light on the state of press freedom in the country. At a time when the government exerts a monopoly on "truth", the presence of a critical and independent press is all the more important.
More than a year into President Ferdinand Marcos Jr. 's term, rampant disinformation continues to fragment Filipino communities. This, despite the government's declaration to spearhead the fight against it. When he took office in 2022, he notably invited everyone to "join the government in fighting against the proliferation of misinformation and disinformation through inclusive, compassionate, and responsible communication," and professed to have fallen victim to fake news. To show his commitment to battling disinformation, he recently launched a Media Information Literacy campaign targeting Filipino youth this year.
Though his acknowledgment of disinformation's negative impact on society is commendable, it is hard to ignore his neglect of the country's press freedom. In his recent State of the Nation Address, President Marcos Jr. made no mention of his plans to improve the media landscape, even when only weeks after his landslide win, the websites of community-led alternative media outlets Bulatlat and Pinoy Weekly were blocked due to their alleged links to the Communist Party of the Philippines.
President Marcos Jr. also seems to have been unfazed by the record of journalists killed, intimidated, and harassed since he took over the presidency. On May 3 this year, the Center for Media Freedom and Responsibility reported a staggering 75 cases of violations against journalists since President Marcos Jr. assumed office. In just a little more than a year, Filipino journalists have been slapped with spurious legal cases, barred from coverage, and subjected to surveillance and physical assault.
Apart from the unresolved murder of broadcaster Percy Lapid and cartoonist Rey Blanco, the government's ongoing campaign against Rappler's Maria Ressa also persists under President Marcos Jr. Although Ressa was acquitted of tax evasion early this year–a victory celebrated by many–she continues to struggle with her conviction in a cyber libel case. Baguio-based journalist and editor Frank Cimatu is also in the same predicament, having received a guilty conviction in a cyber libel case involving a former government official.
Against this backdrop of violence, Filipino journalists call on Pres. Marcos Jr. to take action and respect their right to free speech and assembly. The president's silence and passivity imperil the lives of Filipino media workers and enable a culture of impunity to flourish. Pres. Marcos Jr. can show his reaffirmed commitment to press freedom by reversing laws trampling on freedom of speech; holding journalists' harassers to account; and putting a stop to disinformation.
This may sound as a tall order for an administration benefiting from a disempowered citizenry, but with the perseverance of Filipino journalists to win back their rights, attaining a genuinely free press is not far from reality.