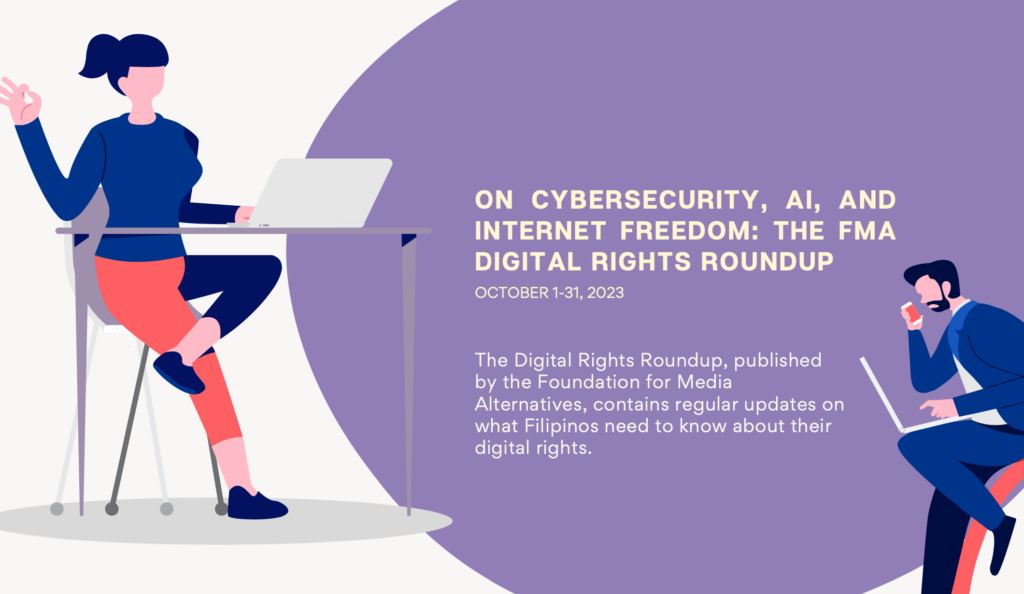 PHILHEALTH NEGLIGENCE EYED IN DATA BREACH
The National Privacy Commission (NPC) is investigating if there was negligence in the handling of personal information and security committed by Philippine Health Insurance Corp. (PhilHealth) regarding a recent ransomware attack.
PHILHEALTH: 13 MILLION MEMBERS AFFECTED BY DATA BREACH
"It is really in the millions. Initially, we can surmise that it covers about 13 million data. We are just completing analysis for us to have the complete information," PhilHealth senior vice president and data privacy officer Nerissa Santiago said at a press conference yesterday.
DICT, NPC ROLL OUT DIGITAL SECURITY PROJECT
The Department of Information and Communications Technology (DICT) and the National Privacy Commission (NPC) will launch a campaign against privacy violations online.
JUDICIARY STRENGTHENS MEASURES VS. CYBERATTACKS
In the aftermath of the recent cyberattacks targeting government institutions, the Supreme Court has issued guidelines to strengthen the judiciary's cybersecurity measures to protect sensitive data and minimize the risk of cyberthreats.
PHILIPPINE RANKS 5TH IN DATA BREACH IN ASIA– CYBERSECURITY FIRM
The Philippines placed fifth in the most number of data breaches in Asia since 2004, based on the Global Data Breach statistics by cybersecurity firm Surfshark released on Friday. Globally, the Philippines ranked 17th.
PH ON STEEP DROP IN TERMS OF 'INTERNET FREEDOMS'
The Philippines has suffered the sharpest decline among Asia-Pacific countries in terms of "internet freedoms," which watchdogs have largely attributed to the enactment of anti-terrorism and SIM card registration laws, according to a new study that tracks the impact of digital technology regulation on people's safety and privacy.
PCO URGES PUBLIC TO REPORT DISINFORMATION, FAKE NEWS
The Presidential Communications Office (PCO) on Wednesday advised the public, particularly the youth, to report the false information they encounter on social media platforms and refrain from sharing it to counter misinformation and disinformation.
COMELEC PUSHES INTERNET VOTING
The Commission on Elections (Comelec) is keen on implementing internet voting for Filipinos overseas. Comelec Chairman George Erwin Garcia said during a roundtable interview with The Manila Times that the commission wants overseas internet voting in place for the 2025 elections.
SEC AND GCASH SIGN AGREEMENT TO COMBAT SCAMS AND FRAUD
The Security and Exchange Commission (SEC) and the Philippines' leading finance super app GCash have signed a memorandum of agreement (MOA) to join forces in going after perpetrators involved in online fraud, e-scams, and other cybercrimes.
US READY TO HELP PH COMBAT CYBERATTACKS AMID SPATE OF HACKINGS
The United States expressed its readiness to help the Philippines find ways to combat cybercrimes and cyberattacks amid the spate of hackings in government websites over the past weeks.
JOURNALISTS, PRESS FREEDOM ADVOCATES CALL FOR JUSTICE FOR PERCY LAPID
Journalists and advocates for press freedom on Tuesday called for justice for Percy Lapid as they commemorated his first death anniversary.
BOOST CYBERSECURITY MEASURES, SUPREME COURT ORDERS JUDICIARY PERSONNEL
The Supreme Court (SC) has ordered officials and personnel of the judiciary to strengthen cybersecurity measures to "minimize the risk of cyber threats" as it issued guidelines to be followed by courts on "proper cyber hygiene."
PHILIPPINES BANS MILITARY FROM USING AI IMAGE GENERATORS DUE TO 'SECURITY RISKS'
All defense and military personnel in the Philippines have been ordered to refrain from using all artificial intelligence image generator apps, which a government memorandum said poses "significant privacy and security risks."
AI NEWSCASTING CAN INCREASE DISTRUST OF MEDIA – UP PROFESSOR
The recent experiment of Philippine broadcasting giant GMA Network Inc. of using artificial intelligence to deliver sports news using avatars called AI sportscasters is not a "good use" of the emerging technology in journalism, according to a journalism scholar.
PHILIPPINES: DTI'S REQUEST FOR $3.5M AI CENTER FUNDING REJECTED ANEW
The Philippines' vision of becoming "an AI center of excellence" was dealt a blow after a budget request to establish an artificial intelligence (AI) research center was denied for the second consecutive year.
MORE THAN THREE-QUARTERS IN THE PHILIPPINES FEEL CONFIDENT ABOUT USING AI TOOLS, FINDS LINKEDIN
Marketers in APAC are ready to embrace AI, with more than three-quarters (76%) feeling confident about using the technology, according to new research from LinkedIn, the world's largest professional network and leading B2B advertising platform.
SOCIAL MEDIA 'NARCISSISTS' MORE LIKELY TO SHARE FAKE NEWS – STUDY
People who are considered narcissistic and are experiencing "social media fatigue" are more likely to fall for and share "fake news," according to a new study conducted by Nanyang Technological University (NTU) in Singapore that explored the relationships between people's cognitive and personality traits and the rise of misinformation.
PHILIPPINES TOLD TO WORK WITH SECTORS TO FIGHT CHINA FAKE NEWS, AMBITIONS
The Philippines should work with local sectors and other nations in countering China's disinformation campaign and put in check its military and economic ambitions in the South China Sea, geopolitical analysts said.
GCASH PROVIDES USERS MORE PROTECTION WHEN SENDING MONEY
Digital money transfers are now an integral part of our daily transactions. However, scammers, fraudsters, and cybercriminals have devised various strategies to take advantage of users and exploit the cashless economy.
PCO TO EMPOWER NEXT GENERATION TO BE 'RESPONSIBLE DIGITAL CITIZENS'
Presidential Communications Office (PCO) Secretary Cheloy Velicaria-Garafil on Wednesday committed to empower the next generation to become "responsible digital citizens" through the agency's Media and Information Literacy (MIL) project.
PCO URGES YOUTH TO USE SOCIAL MEDIA RESPONSIBLY: IF WE DO NOT FIGHT, WE ARE PART OF IT
Malacañan's communication arm urged the youth to be responsible in using social media platforms to combat misinformation.
INTERNET FREEDOM DECLINED IN PHILIPPINES – REPORT
Internet freedom sharply declined in the Philippines over the past year after the Duterte and Marcos administrations imposed new controls on online spaces, according to the latest Freedom of the Net report of Washington-based non-profit Freedom House.
MARCOS ADMIN VOWS HIGH-SPEED INTERNET ACROSS PHILIPPINES BY 2026
The Marcos administration announced an ambitious plan for a comprehensive national fiber backbone connectivity by the year 2026. The plan includes providing free Wi-Fi access to all barangays and inviting investors to participate in the Internet connectivity projects.
DEPED, INTERNET FIRMS DISCUSS FREE WI-FI CONNECTION IN SCHOOLS
The Department of Education (DepEd) is currently in talks with several internet service providers including Starlink, PLDT, Converge and Globe for the Wi-Fi coverage of all public schools as part of the agency's move to digitize the country's education system.
RIVAL JOURNALISTS, UP EDUCATORS RALLY TOGETHER FOR MEDIA LITERACY EDUCATION
Journalism professors from the University of the Philippines Diliman launched on Friday a media and information literacy (MIL) channel to address gaps in the way media and information literacy is currently taught in schools.
WOMEN'S CIVIL SOCIETY AND DIGITAL RIGHTS GROUPS SHAPE SOUTH EAST ASIAN DIGITAL SECURITY TRAINING
Pioneering online training that will better equip digital rights and civil society organizations (CSOs) in South-East Asia to promote women's peace and security in the digital world has moved a step closer, following consultations in Bangkok.
PH RANKS 16TH IN 2023 GLOBAL GENDER GAP INDEX – PCW
The Philippine Commission on Women (PCW) on Monday, Oct. 16, said the country paced its way in lessening the gender gap as it placed 16th internationally in the 2023 Global Gender Gap Index of the World Economic Forum.
All resources here are linked to the original websites. If any of the resources will be used otherwise, please do credit the source.